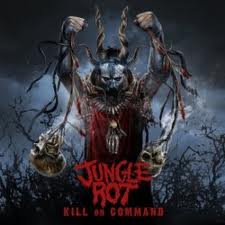 Jungle Rot – 'Kill On Command' 2011 LP, Victory Records
First off it is great to notice that Jungle Rot are gigging in Madison Wisconsin on Thursday, June 23, 2011; Kenosha Wisconsin on Friday, June 24- 2011; and
Sheboygan Wisconsin on Saturday, June 25 – 2011.
The Death Metal monster that is Jungle Rot indeed lumbers on.
Jungle Rot have 15 past members and currently feature these three guys: Dave Matrise, Geoff Bub and James Genenz.
Jungle Rot were founded in 1994. They made two demos before being signed to the American indie label Pure Death Records. Pure Death Records released the debut Jungle Rot LP, 'Skin The Living'.
A year later, in 1997, Pulverizer Records – not to be confused with the overseas label with a similiar name, released the second Jungle Rot disc entitled 'Slaughter The Weak'.
In 1998 the very passionate, spirited, enterprising magazine S.O.D. – standing for Sounds of Death – released the 'Darkness Foretold' EP.
The magazine S.O.D. in subsequent years became Anvil Mag.
It is important to note that S.O.D. were very blunt and direct about the bands that they liked and didn't like.
They started to have some great compilation LPs given away free with the mag and I, for one, always latched onto a copy. This was a pivotal time for Jungle Rot as David Horn gave them a lot of positive press.
The 2001 Jungle Rot LP, 'Dead and Buried', was released on Olympic Recordings as well as the 2004 fourth full-length Jungle Rot LP, 'Fueled By Hate'.
After 'Fueled By Hate' the band washed their hands of record companies and released the fifth full-length Jungle Rot LP, 'Warzone' themselves and sold it via Crash Music to the American market.
Straight ahead Jungle Rot went, not fooling around, getting a signing with Napalm Records in January 2009 who then released the 'What Horrors Await' LP in June 2009.
In April 2011 Jungle Rot signed to Victory Records and a scant two months later they have released their current LP, 'Kill On Command'.
'Kill On Command' is to be released tomorrow, June 21 2011.
The great thing about Jungle Rot is their dedication to their music. For a great example of this fact, one only needs to check out the 'Live in  Germany' DVD made in 2006.
So it is the official first day of summer 2011 tomorrow and what is it up around the bend that I smell?
Jungle Rot. The cover art for 'Kill On Command' which has come out just as the daisies are blooming out here on the east coast of New York City, has greatly improved since the demo days and early 1990s LPs.
The album covers Jungle Rot chose back then always managed to throw me off and I always felt they were a little bit too generic. I also felt that what was depicted on these covers were more befitting a Metalcore or Hardcore band.
To my ears, Jungle Rot are a Death Metal band. They are ultra brutal. But the thing that really attracts me as a listener is the fact that Jungle Rot are not into being real, real gross or ultra sick.
Jungle Rot are a Death Metal band pure and simple.
I know of these guys from way back and Jungle Rot has always been one of my alternative go-to bands when I have grown tired of the leaders of the American packs' LPs.
Cannibal Corpse, Obituary, and Suicide Silence are whom I speak of as scene leaders for the good old U.S. of A.
The moshpit is frenzied as Jungle Rot's music is explosive and the music skanks and grooves.
My favorite song by Jungle Rot coming into this album was 'Worst Case Scenario' with it's Slayer and Sepultura-isms.
The video for 'Rise Up And Revolt' hit YouTube last month, May 2011, and it is here that I will issue you all a warning:
This song is not indicative of what the new album is all about.
With 'Kill On Command' Jungle Rot have made an above average Death Metal album deeply rooted in Death Metal circa 1993.
The songs have always been the main ingredient and an attention to detail makes Kenosha, Wisconsin's best come alive this time around on disc.
'Their Finest Hour' opens proceedings and for five minutes the band plays like
they are seriously obsessed with this thing called Death Metal.
And rightfully they should be.
Death Metal is unchanging and it is this monolithic quantity that bodes so well for it as a Heavy Metal sub-genre for not just the present but forevermore.
The underground Extreme Metal scene needs more bands like Jungle Rot to pulverize the competition.
Nevertheless, it is 'Demoralized' that is the best track on 'Kill On Command', though.
'Demoralized' straddles the line between grooving death and pounding thrash.
Second best song: 'Push Comes To Shove'.
Third best song: 'I Predict A Riot'.
Please do take notice of how untypical Jungle Rot's songs are titled. Lyrically it has been this way for the last few albums, at least.
Fourth best song: 'No Mercy From The Merciless'. The unabashed death rattle of this song, for a lesser less experienced outfit, would be a complete mess.
The very first demo by Jungle Rot that I ever heard was called 'Rip Off Your Face' and that was in 1995.
So over 15 years later and the band are holding fast to that maxim.
– Rich Castle
Death Scream – Heavy Metal Reviews – Heavy Metal Interviews – Heavy Metal News