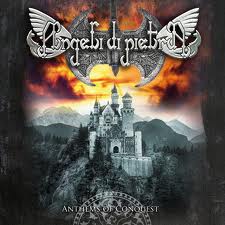 Angeli Di Pietra – 'Anthems Of Conquest' 2011 LP
Angeli Di Pietra – 'Storm Over Scaldis' (the title track from the 'Storm Over Scaldis' 2009 LP)
'Storm Over Scaldis' – This song has a scalding lead guitar — what we have here is a diamond in the rough.
It is highly recommended that you all do some research — that is, those of you
who want to put some hi-level Virtuostic Power Heavy Metal in your plans.
And with Angeli Di Pietra you will get more than you planned.
This six-string slinging whacker will switch you to glide effortlessly.
Stop on a dime tightness earmarks this A.D.P. number and frightfully approaches perfection.
As good or better with an album's worth as the more obvious subjects like Helloween, Borealis, Axel Rudi Pell, Firewind, Iron Savior, etc., is A.D.P.
I was planning on only reviewing the song 'Storm Over Scaldis', the title track of this Belgian outfit's 2009 debut LP of the same name, only.
You see this here article you are reading was to include a list of 10 are so great songs that I heard on radio stations around the world today, June 17th 2011, that specialize in Heavy and Extreme Metal and all it's cool offshoots.
Yet I was so smitten by this Angeli DPietra that I decided the review would only be about them.
I heard this wonderful act for the first time today.
I researched their history and also had the great pleasure of grabbing a listen to three songs from the sophomore album that so wonderfully debuted on June 3rd, 2011, exactly two weeks ago.
Lo and behold it surpasses the 'Storm Over Scaldis' track I heard on a European Metal radio station earlier today.
My first glance at the cover of 'Anthems Of Conquest', Angeli Di Pietra's second opus, made me think 'Sonata Arctica' due to the logo design, mostly.
Angeli Di Petra were formed in 2002 by Gael Sortino and Quevin Smeyers, both master guitarists.
I like the title of their 2005 demo which is called 'Believe In Angels'.
So the brand new second Angeli Di Pietra album is called 'Anthems Of Conquest' and 5 out of 13 songs are instrumentals.
Revelation about Angeli Di Pietra's 2nd molten disc — A genteel surprise paraded whencefore  my dazzled ears:
Gruff Death Metal vocals and angel choirs — OMG.
'Last Flight of The Valkyries' – 4:50 –
A Tolkien-esque angel choir begifts the galloping, colossal riffing.
Hark!  Death Metal has merged with Power/Speed/Guitar Virtuoso Metal in
An almost perfect feat of grace.
The angel choir sings: 'Coming from the heavens they are riding on the thunder dragons. Coming from the heavens they are charging through the sky.'
'Avalon' – The longest of the five instrumentals at 2 minutes and 25 seconds.
Fantasy guitar plucking that verges on healing music.
It heals my soul.
'I Am Spartacus' – 5:10 – Yngwie Malmsteen meets primo Virgin Steele musically.
Angelic female vocals trade off with gruff Death Metal vox.
Nice.
– Rich Castle
Death Scream – Heavy Metal Reviews – Heavy Metal Interviews – Heavy Metal News