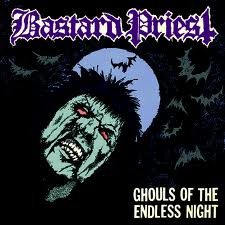 Bastard Priest – 'Ghouls Of The Endless Night' 2011 LP
Bastard Priest – Venom, Bulldozer, Nifelheim, Destroyer 666, Aborym – are all good references in helping to define the music to be found on this debut LP.
What Bastard Priest offer is certainly much better than poorly recorded Black Metal like Shrouded Despondency.
I should be writing this whole review in caps to get everybody's attention.
This album will transport you back to a time when there weren't 1000 Black Metal bands snarling in your ear, but one like Venom or Sodom to check out and peruse their quality.
The saturation of the genre is brought to bear when considering that Bastard Priest might not get a fair shake.
The production for this Blackened sophomore effort is noticeably old style as was their debut LP.
It fits the band to a tee.
After the flawless 'Merciless Insane Death' demo of 2008 accomplished everything that it set out to do, the debut LP 'Under The Hammer Of Destruction' was released in August of 2010 on the Blood Harvest label.
'Blasphemy From Hell', 'Visions Of Doom' and 'Total Mutilation' will give you an idea of what to expect.
But I will tell you that what you are going to hear goes back to old school punk roots and the earliest Swedish/Netherlandic bands.
Maybe Maim for newer bands and Venom as the template would be a good thing to tell you.
2011 may bring more exposure to these guys as the Bastard Priest second effort has been released upon the unsuspecting public.
Their LP has been released on Blood Harvest while the CD is on Pulverised Records.
'Ghouls Of The Endless Night' is the name of it and the subject matter has morphed a bit since the first LP into a more vampiric mode.
The guitars are still wonderfully scrunchy sounding and the drums are really scurrying along with more verve, pep, and energy than I remember on the first album.
Thankfully the doominess factor has been dropped a little as Bastard Priest are beginning to show some maturity.
The thrashing is done in even more of an old school style than it was before which is an interesting development. Your head will definitely be bopping and your body skanking when you get your ears full of the zesty, tasty riffing on offer throughout.
Why people are calling Bastard Priest 'amazing Death Metal' and the like, though; I just can't understand.
I think the fact that Bastard Priest have a cover of a Bombanfall song in their collection is very telling that their influences predate Dismember and Entombed.
Ghouls of the Endless Night contains the following tracks:
1. Pestilent Force
2. Ghouls of the Endless Night
3. Enter Eternal Nightmare
4. Poison
5. Sacrilegious Ground
6. F**king Slaughter
7. Last Scream
8. Enormous Thunder of the End
The title track, 'Ghouls of the Endless Night' could be compared to something Morbus Chron has done.
It is a fact that bands as deeply entrenched in the underground today as Bastard Priest are have quite the uphill climb out of the abyss.
I hope that the distribution is good for this second album and I will try to get a podcast interview with the guys, if they are up to it.
Bastard Priest: Inventor – Guitar and vox
Matt Mendoza – Drums and vox
With all the right press and some choice gigs Bastard Priest should be really able to gnaw some meat off the bones of their competition.
On the subject of competition — they don't really have much to worry about.
Check out old bands like Merciless Death and Sempiternal Deathreign and minus the doom factor that is inherent in the latter, you will be able to guage all the good stuff you are going to get by purchasing these very unique albums that Bastard Priest has released.
With Judas Priest on their 'Epitaph' tour it seems that the time is right for a Bastard Priest to claim some sinners as their very own.
Rich Castle
Death Scream – Heavy Metal Reviews – Heavy Metal Interviews – Heavy Metal News