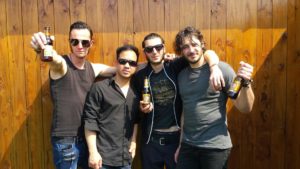 Joy/Disaster, the industrious European Indie Rock sensation will have their "Mu" album available in November.  The band hails from Nancy, France and have been plying their wares for over ten years.
Joy/Disaster is  —  Nico : Guitars & Lead Vocals
Simon : Guitars & Backing Vocals
Soupa : Bass & Backing Vocals
Niko : Drums
"Up To You" is the first song from "Mu" out of gate and ready for listening. Black Sabbath's "Paranoid" lick played backwards is my esoteric perception of this one. Strident and bold, "Up To You" grabs the listener by the hackles of the neck, and proceeds to keep a firm grip. The band uses the terms Doom, Sludge, and Punk to describe their music on their Facebook page yet I don't agree. I find their music to be more straight-ahead Rock with a driving beat.
– Rich Castle