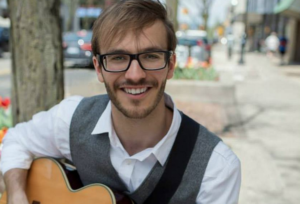 With a prime rock'n'roll voice to instantly charm the listener with his Jazz PopRock ditties, Josh Ross is ready to take his JazzPop ditties to the next level.
"Love Never Fails" is the new album by Troy, Michiganite Josh Ross. He dances up a storm on the blazing new number, "Do You Remember?", which viewers can watch and listen to on YouTube. Yet it is a wholesome kind of dance that one does with his sweetheart in an old-fashioned way. What you see is what you get with Josh Ross:  A sensitive guitar/singer-songwriter in love with a beautiful woman smiles from ear to ear and soars through all the rest of his tunes on a natural high.
Josh Ross delivers his craft straight from the soul. "Do You Wanna Dance" is so simple, yet so effective and bubbly that it'll make you wish you that you had wrote it. Ross says he has got two left feet, as he doesn't try to re-invent the wheel. Ross just sings in tune and plays in time and creates pure magic with the tone.
Then out of the blue, "Someone New" takes over. It is guitar-driven and very strummy. The beginning of the song reminds of another fun Rock band, The Pretenders minus Chrissie Hynde.
"God Has Already Won" is played for the Lord and it is not a million miles removed from Aaron Shust or Chris Tomlin, overall.
Well done Ross.
– Rich Castle