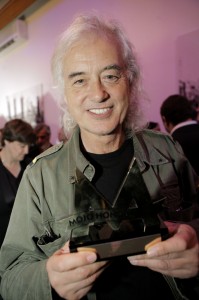 "It's been a long time since I rock and rolled
It's been a long time since I did the Stroll
Ooh, let me get it back, let me get it back
Let me get it back, baby, where I come from
It's been a long time, been a long time
Been a long lonely, lonely, lonely, lonely, lonely time
Yes it has."
— Excerpt from the 1971 song "Rock and Roll", by Led Zeppelin
(The song was first introduced onstage as "It's Been A Long Time")
Jimmy Page's 11/21/14 appearance on the Ellen DeGeneres TV show, promoting his coffee table book that has come out with his name on the cover with his trademark "Zoso" emblem, dropped a bomb — of obviously being ready, willing and able- bodied to handle a Led Zep reunion. First, though, they might have to offer Led Zeppelin's mane attraction Mr. Robert Plant something a wee bit more substantial than $800 million! It also might be a mite bit difficult to tear the ex-Led Zeppelin frontman away from his brand new album, a full-length studio disc that has been billed as hearkening back to the leather-lunged singer's halycon days of yore. "lullaby and… THE CEASELEASS ROAR" is the craftfully worded, 10th Robert Plant, solo-LP title. Robert "Percy" Plant even has an illustriously named backing band, in tow, called The Sensational Space Shifters who form the recorded backbone of his latest project. The currently inner space faring, still flashy, Plant may just be light years in thought away from a get-together again with the old 'Zep alma mater.
Jimmy Page loves playing Led Zeppelin music. Listen closely on this clip here to the man affectionately dubbed, "The Master". Page's propulsive, heavy guitar playing helped jettison the then, vinyl and cassette tape, listening world onto it's collective ear with the Hammer of The Gods' sent, 1969 Led Zeppelin debut album.
First up though came the Yardbirds, yielding three soon-to-be famous guitar players — Eric Clapton, Jeff Beck, and Jimmy Page. Released with Page as the sole axemeister, came the Yardbirds album "Little Games" in mid-1967. Presaging the shape of big things to come, it contained the first whiff of Led Zeppelin with the 4-minute J. Page composition "White Summer".
A team effort, heavy as a heavy metal anvil, the self-titled "Led Zeppelin" LP featured Jimmy Page on guitar, Robert Plant on vocals, John Paul Jones on bass guitar, and John Henry Bonham (RIP) on drums. The Beatles, The Rolling Stones and even The Who had to make room for this blaring yet blues-capable quartet. Led Zeppelin in 1971 would release their untitled 4th album. A number called "Stairway To Heaven" from it would go down in history as the #1 most amazing and popular Rock song of all time. Led Zeppelin would go on to release a total of 8 studio albums from 1969-1979, capping it off with a 1982 album, "Coda". There would be a few "live" albums like "The Song Remains The Same" (also shown in movie theaters) and the stunning "How The West Was Won", as well as a reunion in 2007 that thanks to YouTube would become a cornerstone gig in Rock history. The fact that Jason Bonham — the son of the late, great John Bonham — would pound the skins with amazing similarity to his father, delighted all rabid Led Zeppelin fans; that and the fact the London 02 Arena concert would make for an entry into the 2009 Guinness World Record book for the "Highest Demand For Tickets for One Music Concert" with 20 million impassioned requests online to attend the show. Two years ago Led Zeppelin fans, of all ages — regardless if they had attended this historical gig or not — could finally feast on the delightful 75+ minute film/live album spectacle that captured the 16-song greatest hits, set list, package from this record-breaking 2007 Led Zeppelin reunion one-off, done on their native U.K. soil. 2012's "Celebration Day", commemorates that big day.
2014: The 7-year itch is in effect. Will the remaining members of Led Zeppelin fulfill the wish of the throngs of the faithful, coupled with the yearning of Jimmy Page, to reform once again?
What ever the case may be, Jimmy Page is resolute on going on tour — no matter who is going along for the ride. (Page hasn't toured since he and the Black Crowes went out on tour together, over the course of two years, 1999-2000, decidedly doing a lot of Zeppelin material.)
With this recent bout of hoopla and perpetual mystique that is in keeping with the secretive kind of riddled nature of the erstwhile Page and Plant, at least one fact remains certain: That for Led Zeppelin it's been quite a ride.
Yes it has.
– Rich Castle