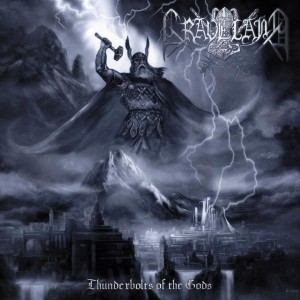 Celebrating 20 years of recorded history, this year of 2014, Rob Darken — the mainframe focus of Graveland — has taken the band exactly where it seemed they were headed. The majestic strains of Quorthon that there is to be no more recordings by (RIP), has had the Q-throne resuscitated by the Polish juggernaut that marches to an Epic/Darkened Pagan Metal beat.
"Thunderbolts of the Gods" is the lucky 13th album, by a band too headstrong to be bothered by superstition. The album has been released on vinyl, CD, (some) cassette tape(s), and Digital Download.
"Thunderbolts of the Gods" is a majestic, all encompassing affair. It is much more than a Heavy Metal album. Graveland sculpt Epic movies. "Wolf of the North" is just the kind of track that breathes and shifts in and out like the tides of a great ocean. Mesmeric, and hypnotizing, backing vocals hail the onslaught of distorted guitars that blaze amidst drumming that splashes the sound picture. 9 minutes of pure escapism to a land where heroes never die. Next up, "Chamber Of Wicked Tears". Get the actual album, folks, to hold in your hands and read the exciting stories for each #. It's a little more complicated, yet it has that "Twilight of the Gods"/"Hammerheart" albums, Bathory feel down to a tee. Not derivative, though, as Graveland have woven their own identity on an Epic style of music that without them, would never be done correctly. The vocals are what characterizes the difference between Graveland and Bathory. Deep menacing vocals hold sway over the din, brooding, as cymbals clash and a distorted Black Metal wall of sound blazes from the guitar and bass. Read the words. Listen to the siren song that call to the men aboard the Viking ships who long in their barbarian hearts, like madmen — when they think of it — to ravage a woman. Oh, do pardon me — I got lost in the atmosphere.
A more uptempo number, "Possessed By Steel" has the remarkable similarity to Quorthon and co.'s "Baptised in Fire and Ice" yet with Graveland the delivery is more subdued, yet hard and battle-ready. It is the opening track.
"Red Polaris" has the feel of the last few epic albums that Bathory recorded, right before Q.'s tragic end. The churning fiery sea of instruments blaze together in perfect harmony and clarity. The vocals croak about skies filling with fire. "Nordland I" 2002 and "Nordland II" 2003, the final Bathory albums were showing signs of the Viking legend becoming comfortable with building sweeping, gigantic soundscapes. Now, Graveland have actually started to surpass Bathory, reaching the next shimmering plateau.
A long "Outro" called When Hammer Shines, after a few minutes, brings the Polish men's album to a close.
"The Fire of Awakening" LP, "In the Glare of Burning Churches"LP: Two examples of Graveland scrumptiously obsessed with flames of war, destruction, and mayhem. In the spirit of Bathory, Blood-Fire-Death topics make good lyrical fodder.
This band is amazing. Get with it, people. Graveland have a cinematic approach to their expertly played brand of heavy music.
Although I have mentioned Bathory, quite a lot, nevertheless — Graveland sound like Graveland "."
With a great affinity and empathy to the great Quorthon Bathory, I hang my head low knowing the iconic Mr. Q. from Nor- way never lived to make more than 12 studio albums. Graveland's 13th album is just perfect to quell the sorrow I feel.
Graveland, indeed, do transcend the style that Bathory last left the world with. Their next album to follow up this one, in 2014, in Polish, switches to a style a tad shade darker yet with a searing focus on the topic of fire once again.
– Rich Castle