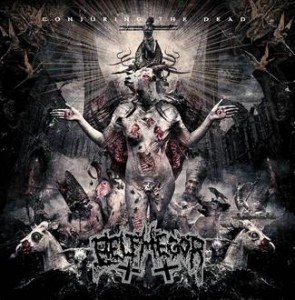 The sounds of suffering and the glory of vampyric horror are all part and parcel to the experience of Death Metal/Black Metal outfit, Belphegor. Just the mere thought of Jesus Christ is repulsive to these guys. They have made a career out of it. Some songs like "Lucifer, Take Her" on the new LP don't work as well as "Conjuring The Dead", the title track does. This new album is full of different speeds and approaches and is very grim. The pretty girl on the screen goes down on a priest and gives him the first Black Metal blowjob on YouTube in the "Conjuring The Dead" video! "Gasmask Terror" is more like the Belphegor we know and love to weird out on, elsewhere on the album.
"In Death" and "Legions Of Destruction" are just sheer masterpiece cuts of total f*cking darkness.
Belphegor can be more extreme than Marduk and even less predictable.
Truly horrific, Diabolical Death Metal Art, "Conjuring The Dead" is the Austrian's 10th studio LP platter.
Belphegor burst onto the scene in 1995 with "The Last Supper", following it up with the equally destructive "Blutsabbath". The next two couldn't possibly live up to the damage they inflicted on the Extreme Metal world: "Necrodaemon Terrorsathan" and "Lucifer Incestus" did not go down as well with fans expecting maximum overload. The band picked up the momentum again, though, soon enough with the next batch of studio full length albums. Remaining prolific and sticking to their guns through the years has served Belphegor well. They realized that they needed to be as extreme as it was possible to put forward their mojo to the fans.
"Blood Magick Necromance" in 2011 is actually, dare I say, a little more of a walk on the more popular side of things — though now with "Conjuring…" — Belphegor are back in black and walking the walk of the supreme attack on all things holy.
– Rich Castle