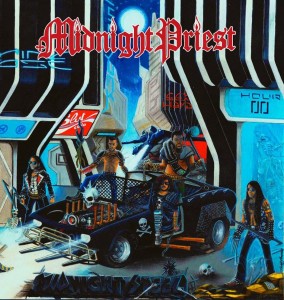 Midnight Priest's Lex Thunder is going to shock the crap out of you. Have you viewed their "Hellbreaker" video on YouTube, (check out the video at the bottom of this page) yet, from the band's 2nd LP "Midnight Steel"? The lead vocalist impresses mightily, with a voice that begins the song like it's Witchfinder General. Piercing Metal screams and a commanding frontman performance, this is better than anything off the debut album, the self-titled "Midnight Priest". "Live Fast, Die Hard" is the phrase that flashes across the screen, to start the visuals. Mr. Thunder wears, suitably, a Grim Reaper t-shirt. One of the leather-clad guitar players, of which one has a Bathory t-shirt on, with suitable rocked out attire, stands atop the hood of a car, ripping out a vicious lead. Looks cooler than Slash, too. This is great! The denim-and-leather quintet that is Midnight Priest gel together well, giving the impression that they have already made a stack of studio albums. Midnight Priest have made 2 albums and a Mini- LP. They hail from Portugal.
I'll be darned if this band aren't the U.K. band, Raven reincarnated!: Listen to the riff in Hellbreaker.
The site, Metal Underground recently reported that Midnight Priest, (the first album's vocals credit "The Priest"), were streaming a few new songs. On metalunderground.com there is an option to share and/or buy both "Hellbreaker" and "When Midnight Comes".
The Heavy Metal spirit will jump out at you, as with these two songs alone, Midnight Priest prove to have an uncanny melodic sensibility to them. The new album's production is clearly done, and there is no reverb or echoes as the band go for the throat. With band member nicknames like Iron Fist, Murderface, and Wartank — there's a lot of character to Midnight Priest.
Other songs on the album to look forward to hearing, include "Mistress Of The Night", "Gates of Stygia" and "Into The Nightmare". There are ten tracks on their second studio outing, in total.
– Rich Castle