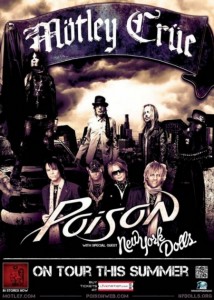 Newly released video footage of MÖTLEY CRÜE drummer Tommy Lee's new "360" drum roller coaster — including interview clips with Lee and CRÜE bassist Nikki Sixx — can be seen below. During the band's current tour, Lee is being launched into multiple loops while continuing to perform.
"This idea came about from when I was a kid going to concerts," explains Tommy Lee. "Whenever the drummer started his drum solo, I wondered why people would leave to go get a beer, buy a t-shirt, restroom, whatever!! I wanted to show people what happens behind the drumset, so I decided to expose it all by flipping the drums vertical, upside-down, making them disappear and fly over the audiences heads! MÖTLEY CRÜE brings you on a thrill ride, jump on the 360! Let's do this! By the way, it's really fucking difficult playing while on this ride!"
MÖTLEY CRÜE's current headlining trek with support from POISON and special guests NEW YORK DOLLS kicked off on June 7 at Gexa Energy Pavilion in Dallas, Texas and will hit approximately more than 40 cities before coming to a close in August.
The band's setlist was as follows:
01. Wild Side
02. Saints of Los Angeles
03. Live Wire
04. Shout at the Devil
05. Same Ol' Situation (S.O.S.)
06. Primal Scream
07. Home Sweet Home
08. Don't Go Away Mad (Just Go Away)
09. Drum Solo
10. Looks That Kill
11. Dr. Feelgood
12. Too Young to Fall in Love
13. Too Fast for Love
14. Girls, Girls, Girls
15. Smokin' In The Boys Room (BROWNSVILLE STATION cover)
16. Kickstart My Heart
The initial tour announcement by Nikki Sixx, Tommy Lee and NEW YORK DOLLS' David Johansen was made on the syndicated radio show "Sixx Sense With Nikki Sixx"on March 1.
During a May 1 press conference at Bamboozle in East Rutherford, New Jersey, MÖTLEY CRÜE's veteran production manager and set designer, Robert Long, presented graphic renderings of the new set design, which he described as "a hard-hitting CRÜE rendition of a rock 'n' roll burlesque theatre." According to Long, the entire stage is enveloped in red velvet drapery and a damask printed wall of guitar amps.
Continuing to integrate the input of their fans, MÖTLEY CRÜE conducted a survey by listing every song they have ever recorded. Fans voted at Motley.com for the final set list, which includes tracks band hasn't performed live together in almost 20 years.
Via Blabbermouth
Death Scream – Heavy Metal Reviews – Heavy Metal Interviews – Heavy Metal News