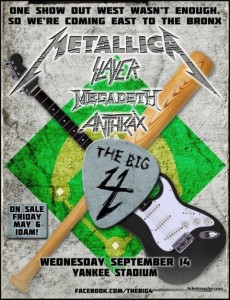 RockAAA conducted an interview with ANTHRAX and THE DAMNED THINGS guitarist Scott Ian at this year's edition of the Download festival, which was held June 10-12, 2011 at Donington Park in Leicestershire, United Kingdom. You can now watch the chat below.
When asked if there are plans for METALLICA, MEGADETH, SLAYER and ANTHRAX to take part in more joint jams at the upcoming "Big Four" shows in Europe and North America, Ian said, "I did have a talk with Lars [Ulrich, METALLICA drummer] about something for the Yankee Stadium show [in New York City] in September . . . We talked about doing something different at the Yankee Stadum."
He added, "It's great getting up and doing [DIAMOND HEAD's] 'Am I Evil?' [as the 'Big Four' did twice before — in Sofia, Bulgaria in July 2010 and in Indio, California in April 2011], but we're on stage for, like, two and a half minutes, and we all wanna be up there longer. So we're not gonna play the full 'Am I Evil?', because then it's just too much, but we talked about some other things to do that will enable us to all be up there and enjoy that time for a bit longer."
SEPULTURA guitarist Andreas Kisser will play 11 shows with ANTHRAX in July as a temporary replacement for Scott, whose wife, Pearl Aday, is expecting the couple's first baby.
"It would take something like [a baby for me] not to play the 'Big Four' shows," Ian said, before adding, "I can't believe I'm not going to be there."
During a November 2010 interview on "The Kevin & Bean Show" on the Los Angeles radio station KROQ-FM (106.7), METALLICA drummer Lars Ulrich was asked about the "Am I Evil?" jam in Sofia. "It just seemed like because this thing was being broadcast to a couple of thousand movie theaters around the world and there was such a historical element to this that to get everybody up and play a song together would be cool," he said. "So, obviously, we didn't wanna do a METALLICA song, so we felt that something that would be close to home for everybody would be the song called 'Am I Evil?' by this very influential and inspirational band to all of us called DIAMOND HEAD. And the great thing about 'Am I Evil?' — with no disrespect to [DIAMOND HEAD guitarist] Brian Tatler, who wrote the song — it's sort of like the… call it the 'Smoke Of The Water' of '80s metal songs. It's not the most challenging song to play on the guitar. It was certainly one of the easier songs and in a big stadium of 75,000 people, it sort of translates, sound-wise, to sound probably pretty good. So we got everybody into the tuning room before the show and everybody sort of learned the basics of 'Am I Evil?' and then pretty much all the other musicians in the other three bands came up and joined us. And we had a couple of extra snare drums and some other stuff up there."
Via Blabbermouth
Death Scream – Heavy Metal Reviews – Heavy Metal Interviews – Heavy Metal News