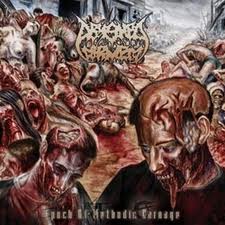 Abysmal Torment – 'Epoch of Methodic Carnage'– 'Toward a vanguard armed with ample hatred. Overwhelming and persuasive, just like a drug.'
These words are from the lyrics that these Maltese screwballs have concocted and I couldn't describe what this 4 minutes and 43 seconds does any better.
This song is the title track of the 2006 album of the same name.
Drums clang like pots and pans only much better.
Grungy grindcore and gutteral sputterings seethe and penetrate my dura mater with ease.
I can't fully understand why I like the 'Epoch of Methodic Carnage' LP, as a whole, so much more than the 2nd and more heralded, better produced 2009 'Omnicide' LP by Abysmal Torment.
It must be that it brings back memories of Sepultura's Death Metal standalone 1985 'Bestial Devastation' debut EP.
It just dawned on me that I really like all three of these bands a lot: Abysmal Torment, Abysmal Dawn, and Abysmal Grief.
Cool, right?
Here is a great band that could still follow in the footsteps of  the classy Death Metal scene leaders from Sweden- Dissection: But they need to wise up: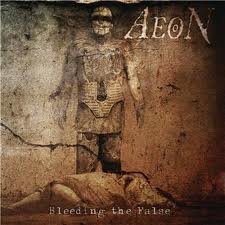 Aeon – 'God Gives Head In Heaven' from the debut LP of Aeon entitled 'Bleeding The False'.
I will tell you that the later half of the last decade may have just been defined by this vulgar song seeing the light of day. 'Bleeding The False' was released on September 20th, 2005.
Why the stupidly crass song title?
Aeon are neither Gorgoroth or Abigor-like Black Metal nor Autopsy/Carcass/Poppy Seed Grinder-like Grindcore. They play almost flawless and great Death Metal.
Great music and a childish title has me speaking out about this.
This incongruous song title is like seeing the head of a 90-year old woman on a 2 month old baby.
I've always believed that the punishment should fit the crime, so to speak.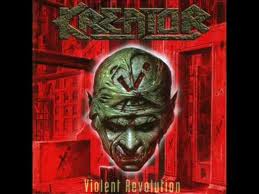 Kreator – 'Reconquering The Throne' from the 2001 lavish digipack 12-song album 'Violent Revolution'.
As soon as I got this in 2001 I knew that Kreator's days of being another band with the 1990's decade sound was over and I could go back to digging these fierce Teutonic thrashers again.
The aggression had returned and continues through this day. Just listening to
Kreator's concert spectacle, 2010's 'Terror Prevails- Live At Rock Hard Festival'with the unbeatable last three tracks- 'Endless Pain', 'Pleasure To Kill', and 'Terrible Certainty' had me revisiting this album again.
The digipack came out in a limited-to-10,000 copies pressing.
It contains the 'Reconquering The Throne' studio album plus one more track.
Check out the tracklisting:
1. Reconquering The Throne 2. The Patriarch 3. Violent Revolution 4. All Of The Same Blood 5. Servant In Heaven – King In Hell 6. Second Awakening 7. Ghetto War 8. Replicas Of Life 9. Slave Machinery 10. Bitter Sweet Revenge 11. Mind On Fire 12. System Decay.
Note: Track #5 may just be the sleeper song in the Kreator catalog.
'Renewal', 'Outcast', and 'Endorama' are the names of the Kreator albums that all followed on a downhill slide the 1990's Kreator pinnacle- 'Coma Of Souls' LP.
Germany's finest- Kreator, Sodom and Destruction are still metaphorically kicking down walls and all have made a successful return to form in this new century, glad to say.
– Rich Castle
Death Scream – Heavy Metal Reviews – Heavy Metal Interviews – Heavy Metal News