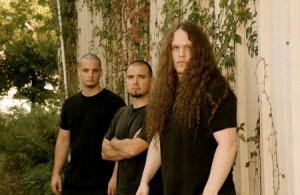 The second in a six-part series of clips featuring behind-the-scenes footage from the making of "Phoenix Amongst The Ashes", the new album from Florida-based extreme metal veterans HATE ETERNAL, can be viewed below. Due on May 10 via Metal Blade Records, the CD was recorded HATE ETERNAL mainman Erik Rutan's Mana Recording Studios in St. Petersburg, Florida and was mastered by Alan Douches at West West Side Music (SEPULTURA, SUFFOCATION, UNEARTH) in New Windsor, New York.
"Phoenix Amongst The Ashes" track listing:
01. Rebirth
02. The Eternal Ruler
03. Thorns Of Acacia
04. Haunting Abound
05. The Art Of Redemption
06. Phoenix Amongst The Ashes
07. Deathveil
08. Hatesworn
09. Lake Ablaze
10. The Fire Of Resurrection
J.J. Hrubovcak has been added as the band's bassist, alongside the devastating combo of Erik Rutan on guitar and Jade Simonetto on drums.
Commented Rutan: "'Phoenix Amongst The Ashes' is an album that we as a band worked so very hard on to achieve a record of mammoth dynamic proportions. Jade, J.J. and I gave everything we had to make a death metal record that would incorporate a balance of speed, heaviness, melody, and pure power. Every song we labored over to have stand out with originality, individuality and unique creativity. We feel we accomplished everything we set out to do with this album and are very proud of the results; we hope you all will agree."
The first single off "Phoenix Amongst The Ashes" — "Haunting Abound" — can now be heard on the band's landing page at this location. Rutan states, "'Haunting Abound' is a song that we feel carries the intensity and the vibe of traditional HATE ETERNAL, yet explores new territory with a certain heaviness that has never been presented before in a HATE ETERNAL song. Infusing more dynamics and expanding our sound whilst retaining the integrity and ferocity that fans expect from us. This is only a small taste of things to come upon listening to 'Phoenix Amongst The Ashes'."
The "Phoenix Amongst The Ashes" cover artwork was once again handled by Paul Romano (MASTODON, CHIODOS, THE ACACIA STRAIN, GODFLESH, EARTH CRISIS) who previously worked on HATE ETERNAL's "I, Monarch", "The Perilous Fight" (DVD), and "Fury & Flames" releases.
HATE ETERNAL will soon return to European shores in support of "Phoenix Amongst The Ashes". The tour kicks off April 29 in Würzburg, Germany and runs through May 21 in Essen, Germany.
HATE ETERNAL's last album, "Fury & Flames", sold 2,300 copies in the United States in its first week of release.
Via Blabbermouth
Death Scream – Heavy Metal Reviews – Heavy Metal Interviews – Heavy Metal News