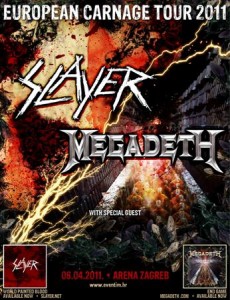 MEGADETH guitarist Chris Broderick was interviewed by the "Metal Eye" show on Z1 TV when the band performed in Zagreb, Croatia on April 6, 2011 during the "European Carnage" tour with SLAYER. You can now watch the chat below.
MEGADETH's "Rust In Peace Live" DVD — which captures the final night of the band's historic month-long "Rust In Peace" 20th anniversary tour — has sold 20,000 copies in the United States.
The group is currently working on the follow-up to 2009's "Endgame" for a late 2011 release via Roadrunner Records.
When asked about what fans can expect from MEGADETH's next album, the band's bassist, David Ellefson, recently told UGO, "We are working on it now so it's a bit early to encapsulate what the final will ultimately sound like. I think we know the punch and impact we want it to have but also not be afraid to let new ideas develop, too. Just know it will be heavy, hooky, and have the trademarks you'd come to expect from us."
"Endgame" has sold 149,000 copies in the United States, according to Nielsen SoundScan.
Via Blabbermouth
Death Scream – Heavy Metal Reviews – Heavy Metal Interviews – Heavy Metal News