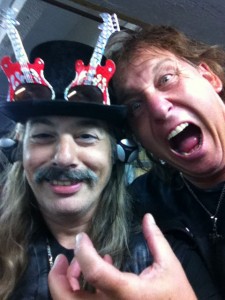 I will now span the globe to find out what is on the good ol' airwaves for January 20th, 2014 on this Tuesday morning.
1. Rush Radio — Rush 24/7 is played on this station.
A live version of "The Camera Eye". From the very-famous same album as "Limelight", "Tom Sawyer" and "Vital Signs". The Camera Eye is the longest cut and this version is cavernous with a too-loud, disturbing prominent keyboard. I, for one, have always found that this song comes off live, in a visual manner, more than for it's actual playing, which is almost dated by 2014. Strewth, and I am a Rush fan.
"Black Forest 1979.mp3" is up next. That's what it says. What I am hearing is "Cygnus X-1" and this is from the infamous bootleg concert that was recorded when the Canadians were in Germany in 1979. This whole album of that whole concert should be made official as there isn't any live Rush album that documents the "Hemispheres" LP period.
2, Untombed Radio
A Broken Silence – "Follow The Leader" from "All For What…". This album is from 2011 and the band itself is from Sydney Australia / New South Wales. They have made two LPs. Calling themselves Rock Fusion is misleading. They play a toned down form of Stryper Metal. They are a young band, though, and this song is somewhat catchy. The playing is tight but the band needs a spark of energy.
Circle of Dust — "Blindeye" from "Disengage".  An odd club verve to this song; more like a piece of music that belongs listened to in the context of a greater whole.
Vision — "Stop The Killing" — Very interesting find. A wordy bunch. Their message is a second decade of the new millenium's take on the hippie movement of the 1960s. The cut is from the band's album "Streetfighter". Vision try to hipshake it and they ain't Robert Plant nor are they Warrior Soul. Yet somewhere deep in the grooves I hear somewhat, for the band — Vision, worth fighting for.
3. Raven Radio Metal 24/7
Amon Amarth — "Where Death Seems to Dwell".  10 years ago "Fate Of Norms" lit up the underground. A great song from it, "Where Death…" goes straight for the jugular vein with a controlled extremely heavy vibe.
Lord Vader — "Just A Life" — A simple throwback to the good times of Razor or Juggernaut. Perfectly clear and energized. This Polish band were brought back, by Karthago Records, for the "Goliath" album in 2001, after long having split up. Underground maniacs, rejoice! (The band are kaput, yet there are a few other recordings floating about.)
DevilDriver — "Pure Sincerity" — Harsh vocals and a dredge-like pull on the instrumentation hit my brain in a bad way. Not my cup of grog.
4. The Dividing Line Radio
Riverside — "Shrine of New Generation Slaves" is the Warsaw band's 5th full-length album. "Volte — Face" is being played from it. Thoroughly interesting and original Metal. This is the Death Scream pick! Check this Progressive Rock/Metal band out. I have heard that earlier albums were better, yet this current one from the year of 2013 is going for an obvious particular niche/vibe. I'm new to the journey; so let's check 'em out together. Well worth Googling. The song culminates where the song lyric "I'm not afraid" being repeated with Middle-Eastern like strains of lead guitar wailing in the background quite powerfully.
Marillion — "Heart Of Lothian" form "Script For A Jester's Tear". This is the "Drama" album that Genesis never made — that's how I have always put it. A great band for the Progressive Music lover. A classic album and one that people tend to pass over, lately. Shame. Don't do that. What if you know all about it? Good. Tell others about Marillion.
5. Radio Web Guitar Warrior
Avenged Sevenfold — "M.I.A." from "City of Evil". Is it that the guitarists have an Yngwie fascination that Avenged 7fold are being touted by Progressive Metal radio stations. Or is it that they came up during the No Wave period of Non-Existent Metal. Some call that period the time that Metalcore rose. Bands like Bring Me The Horizon rose up. And the Nu-Metal of Avenged Sevenfold. Does that labeling even apply now? Did it then? Does it apply to Five Finger Death Punch or Rob Halford's Fight before them? Umm… I can certainly say that the Nu-Metal tag means nothing anymore. Like what would Black Veil Brides be, using I-say-it's-dated terminology? — Nu-Glam? Yikes. I am getting nauseous. Sometimes even for us critics labeling bands can be tedious and offsetting.
Hammerfall — "Legacy Of Kings"'s "Remember Yesterday". The German powerhouse taps the Scorpion's "Lovedrive"-era power in "the ancient forest of elves". This power ballad is a perfect song. It may not be the most original song ever. Yet it has POWER. The searing power chords hearken back even to when Accept were at their absolute peak. The lead guitar solo could have been less Iron Maiden-like (as well as the title of the song taking the song title of "Remember Tomorrow" from 'Maiden and making it "yesterday"!); with a song this great, I am making mere quibbles.
Iced Earth — "Harbinger Of Fate" from "The Crucible Of Man". I think the triple live CD from Iced Earth ended my enchantment with them. This song is a lost, meandering poke in the dark. Sorry. Just tellin' it like it is. Great lead guitar, though, just about redeems it. Iced Earth have better albums. Many times like Flotsam and Jetsam, Queensryche and Manowar they simply overreach. Iced Earth have always lived in Judas Priest's shadow. At least "The Crucible…" was a (grandiose) attempt to get out of it.
Angra — "Ego Painted Grey" from "Aurora Consurgens". Angra have a career curve where each album they make grows more original and introspective. They are sort of like a stripped down version of what Rage have become. Angra are great under the headphones and a solid Metal buy. They have a singer with great pipes that always does it for me.
DragonForce — "Heartbreak Armageddon" from "Ultra Beatdown". "…and the dream will never die" are the words that push a double-bass driven message through. DragonForce are as Progressive as they are virtuostic. The band have heaps of energy and the lifeforce of a million warrior-strewn video game battlefields for imagination. Kudos.
Manowar — "Mountains" form the 4th Manowar album and the last studio album with Ross The Boss on guitar. What a great song to play! It is not an overplayed Manowar tune and simply incredible.