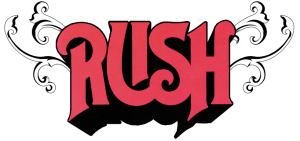 RUSH celebrated almost 30 years in the saddle, (a premature R30 one can say) — almost — when they strode into the ill-fated "Test For Echo" tour, following an often irreverent and difficult 16th album. Songs like "Dog Years", "Carve Away The Stone", "Resist", and "Driven" — as a sample of the tracks on what fans call T4E started to reek of the band being a bit fried on ideas. For me, their best album after their heyday was the light-and-breezy "Presto" (their 1989 13th album opus). "Test For Echo" was stretching the confines of the band as they existed in a netherworld between Alternative Hard Rock and High Gloss Eccentric composition. The brown sound of "Counterparts", their 15th — 1993 opus showed immense signs of life and had been the most impressive recent 1990's decade then heaviest in the RUSH beast yet. Though lost to history was the footage of and soundtrack of the famed Molson Ampitheatre gig in 1997.
The box set, R40, would change all that. Though it sported much of what RUSH fans had already, it also contained a bonus disc and a "completist disc". Mind you, as one unboxing on Youtube proves not everyone snagged a copy of the "completist disc". It was a bit tricky to find and not available everywhere. Many had to track it down. RUSH fans were eager to snap it up even with pre-released material on it, 2014 being pretty dead. A DVD surfaced in 2014 about RUSH but the UK makers of it couldn't use the music of "our heroes" from Eastern Canada. And other bands music played as a dramatic English-accented voice told a RUSH story: An absurd proposition, as R40 would be celebrated a year later with the band embarking on an R40 Live official tour. As of this article the band have completed 2 legs of the tour, touching down to deliver a magical set of chronological hits (new to old) on my turf — the Tri-State area of New York/New Jersey (New Jersey on Saturday June 27th and the legendary Madison Square Garden on Monday June 29th), Geddy Lee the Bass player of RUSH taking up a journalist's suggestion that the band should approach their behemoth tour in this way.
And something memorable always seems to happen when they are in the metropolis that is New York/New Jersey. Alex Lifeson having a fallout due to a broken guitar (New Jersey) and an inattentive lot of roadies during "2112" resulted on the "Clockwork Angels Tour" a few years back with the immortal Alex Lifeson's soft-shoe routine. As resplendent as the "blah blah blah" speech at the RRHOFame.  Even without a guitar, Lifeson can entertain. He has come into his own as an actor and a funnyman in both RUSH skits that the band airs live on film as well at the sidesplitting skits that the band pack their illustrious DVDs with. On this tour, I guess it is the replacement of the rapping skull with appearances by — to say the least — The Trailer Park Boys from the smash comedy series/movies that Alex Lifeson has stole the show in often enough– as special guest star, that surprise and make the crowd smile knowing that the boys have changed it up but yet again.
And thank God that stoopid skull is gone. I have zerro tolerance for rap. Or funk or disco. I always say Rap is Crap. But that is just my opinion.
So, God willing, the tour will be over soon for RUSH and, obviously, we will get the "live"  document. I guess it will be titled plainly — who knows — ala "Clockwork Angels Tour"; It will probably bear the title of "R40 Live". Oh gee, that sounds so plain. I hope the boys come up with a lot of curves in the mix to keep it interesting.
Now comes the fun part. What will RUSH do next? How about what can RUSH do next?
2. A part 2 of "Feedback", with the first round of old songs redone by RUSH,of course debuting in 2004. I would imagine it wouldn't take that much rehearsal. The Torontonians could lay a psychedelic rug down and burn lots of exotic fragrances. The only problem I forsee is a redundancy aspect. The first time go 'round, Alex wanted to actually get feedback on every song. Does he really want to do it all again. And what songs and from what era will the band do. Will they be stuck in the '60's again. Maybe some Led Zeppelin and Who and Prog band covers. How about Yes? (I doubt RUSH can make a Zep cover better, really. And Geddy has alluded to something like this also.)
And let's look at the timing of these releases. Obviously, the most redundant thing is going to be the "R40 Live" document. Besides "How It Is" and "Losing It" there aren't that many surprises rolled out on this current tour where chronological order is everything. "R40 Live" will have to be a standalone release for a while without other RUSH product be sold separately.
Unless… RUSH put together a package that contains extras and video stuff and, most importantly, just maybe "Feedback 2". Though as I write the word "Feedback", I just don't see cover material transpiring on future RUSH records.
Like Geddy Lee has said, once they get the itch, they must write. Look what happened with "Snakes And Arrows" and "Clockwork Angels". The recording sessions where the three of the men of RUSH wrote the albums together, also resulted in a bonding together like in the old days.
Or maybe RUSH will, depressingly and selfishly for us fans, take 2016 off.
No.
Let me end this article on a positive vibe.
It seems what Neil Peart wanted, people to be at his door wanting to make "Clockwork Angels" into a full-length motion picture may very well come true.
And the book-smart Peart is right.
Peart broke it down that Alex Lifeson would be good for the soundtrack.
Geddy Lee for the cinema aspect.
And Neil, oh Neil, is a darn writer — who now has an arsenal of great books under his belt.
I am ready to buy the popcorn as I read Kevin J. Anderson' s "The Bookseller's Tale" eBook and my oh my was it great.
Smile, you're a RUSH fan!
– Rich Castle