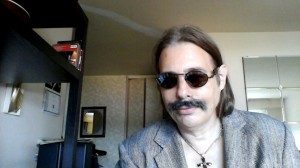 The Editor of Deathscream.net listens to the airwaves!
5:54pm EST USA start: 12/19/2014 — What is rockin' and shakin' the airwaves, right now?!? Let's travel the world, and find out.
1. Russia: Radio Caprice Thrash Metal
Infernal Majesty, "Night of the Living Dead" from "None Shall Defy" 1987 LP. One of the most ostentatious beginnings, ever, for a Thrash Metal band. I.M., another in a long line of enduring Canadian Heavy Music stalwarts, are still active. Their debut LP featured this song. A stone cold thrashin' classic in the tradition of other great Canadian band contemporaries like Sacrifice, Razor, and Slaughter.
2.Russia: Radio Caprice Death Metal
Thy Serpent's Cult, "Glorifies The Evil" from their 2011 debut, "Infernal Wings of Damnation" debut 2011 LP. The band, from Santiago, Chile plow their way through a  low-tuned, chugging and growling, infernal stormer.
Necroven, "Epoch of Chaos Glorification" from their "Worship of Humiliation" 2012 debut LP. Gutteral, sludgy, bewitching DM from this promising,  Canary Islands band.
Disastrous Murmur, "The Saw" from their 2nd (underrated) 1994 sophomore "Folter" LP. Hardcore elements interweave seamlessly in this straight-to-the-gut, satisfying trinket of Grinding GoreCore. The 'Murmur is still around, in some incarnation, though they haven't made a studio album since their 4th in 2006 — which was not well received. All the aforementioned means nothing on the radio, as "The Saw" delivers by driving it's incessant basic structure home. Changing midway through the song, it picks up the pace and the excitement. As distinct as fellow Austrians, Disharmonic Orchestra.
Venereal Disease, "Breathe In Hatred" from the German outfit's "Supreme Supremacy" 2007, 4th studio album. The riffing is irresistible, as it is in most of this band's material. A solid outfit worth tracking down their albums. This is not the Venereal Disease from Spain, who are still active. Solid Death Metal.
The Chasm, "Traveling Through Chaos" from "The Spell of Retribution" from the 6th of 7 — total studio albums to date. The infernal sound of Middle America and South America, put on a clinic, on this one. The Chasm are one of the most blasphemous exponents of droll Blackened churning Death. A perfect representative track of where the band are currently.
Russia: Radio Caprice Doom Metal
Wooden Stake, "Forbidden Oath" can be found on the "At The Stroke Of Midnight" compilation. Bassist and lead howler, Vanessa Nocera issues mournful cries in this sloshing Saint Vitusian Doom slice. A very original style that uses elements of Death Metal for scenery. Certainly, more of it can be found on the New York/San Diego duo's 2010 sole album to date — "Dungeon Prayers & Tombyard Serenades".
Dawn of Winter, "Sad Ocean" from the 1998 debut LP, (of this still rockin' German Doom outfit), "In The Valley of Tears". The U.S. band, Pentagram, come to mind as well as Witchfinder General, on this song. Also there is a big Cream influence, the '60's supergroup, which works for me.
Mirror Of Deception, "Vanished" from this stalwart Doom Metal band — formed way back in 1990. They have released 3 studio albums and a career-spanning 2010 compilation. A Saint Vitus "Children Of Doom" album influence is very prevalent on this track.
Saint Vitus, "Born Too Late", originally from the molten-lead heavy, 3rd 'Vitus studio album. The world's slowest Doom Metal band has soldiered on, currently delivering 8 studio albums to date. I'm hearing a live version, here.
Saint Vitus, "Jack Frost", from "Born Too Late", is up next. "Winter is coming, you better take care" warns lead vocalist, Scott "Wino" Weinrich. Armando Acosta's drumming flails along in the tradition of Bill Ward of Black Sabbath. Acosta, who died in 2010, helped to solidify the band's identity and uniqueness, at a time when Doom Metal wasn't being called a Heavy Metal sub-genre, just yet.
U.K.: Wicked Spins Radio
Alteria Anarchy 29th September 2013. Caught Five Finger Death Punch rocking through Bad Company's theme song, "Bad Company".  Sinister Device, "Prophets Of Society"
U.K. Raven Radio — Metal 24/7
W.A.S.P., "Scared to Death" from the band's 6th studio album, "Still Not Black Enough" (1994).  A Pink Floyd "The Wall" pulse underpins this unusual-for-W.A.S.P. Rolling Stones-like straight rock out.
Nine Inch Nails, "Piggy". This Lou Reed-styled, pulsing, snazzy number features a Wurlitzer organ complementing the vocals.
U.K.: Grub Radio
Turisas, "Stand Up And Fight". Not my favorite tune by this battle-ready Metal band.
Dark Tranquillity, "Monochromatic Stains" from "Damage Done". Culled from the 6th of 10 D.T. studio albums to date. The transition from a Death Metal band to an original style of their own, was emblematic of "Damage Done".  The Swedish band never lost their heavy influences, and this tune goes a ways towards proving that.
Tiamat, "Gaia", is an early-career track from this ambitious band. They had a similarity to Therion, at this point in time. The lead guitar solo is poignantly-played; Floydian, Davie Gilmour-styled with more than a hint of contemporaries — Paradise Lost.
Satyricon, "Fuel For Hatred", from "Volcano" (2002) — the 5th studio album of, a total of, 8. It's hard to beat "Black Crow On a Tombstone". Satyricon were once one of the most darkest purveyors of Black Metal. The great vocals of yore, for this band, though have transformed into something unique. Halfway through, there is an abrupt sea change. Now it's time for some headbanging!
Carcass, "Heartwork", the title track. This station is slammin'! Carcass lay down the jam.
Antarctica: 'A' Net Station
Web Radio The Way It Should Be, from Snow Hill Island, Antarctica. The station is billed, on TuneIn Radio, as Folk Rock. What I am hearing is a jazzy, relaxing number. The guitar playing is snappy, and a great departure especially for musicians seeking something to relax to. Another number follows with more great guitar playing. This time it is finger-picked, in fine style. Something that sounds like Led Zeppelin's Jimmy Page's "Bron-Y-Aur Stomp" (Led Zep III, 1970). This is amazing as the show is from Antarctica. It is the first time I am checking out the music emanating from the vast, frozen continent. On the next tune I hear a man singing a folk music song. It is politically, religiously, and historically opinionated. "And I ask the question, was God on our side?". Without a playlist, for the station, available, I am waiting for a show host to tell me about this good music that I have just heard. Nope, another song has begun. Now, this one sounds like country and finger-picked instrumental folk, again with a jazz-convoluted conflagration. The guitars are a strummin' and that is keeping me tuned in, as I am a guitar player!
Well, still no show host or commercial interruption, at that. I do hear a blues song being song now. It has guitar and vocals and some light percussion.
Austria: Rock Section FM
Voices of Destiny, "Being Worth" from "Power Dive". the 2nd studio album by this German Symphonic Metal band. Armed with a full-voiced female lead singer, lush arrangements propel this tune. Choral elements that remind me of the Classical tune, "The Crown And The Ring", are prevalent.
AC/DC, "Who Made Who". Haven't heard this in a long, long while. It sounds much like the super group's other song, "Thunderstruck". But, that 's cool.
Bon Jovi, "Blaze Of Glory" from the "Keep The Faith" LP. Great lyrics, as Bon Jovi makes well-produced cool music. Bon Jovi albums, to me, are miles cooler than Billy Joel or Bruce Springsteen, generally (I do make exceptions). Great slide guitar lead.
"You gotta live life to the fullest" — superstar, Jon Bon Jovi sings in "Blaze Of Glory". Agreed!
– Rich Casale