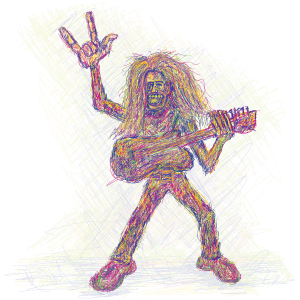 Tuesday  EST USA 12/23/2015 update:
1. Scorpions — February 20th, 2015: They just couldn't resist. How could the Scorpions quit on the cusp of a 50-year anniversary. Answer: They couldn't. The Germanic quintet isn't going to retire, just yet, after all. "Return To Forever"'s cover art is sporting a suitably-fashioned Metal Scorpions' crown. As one of the 16 new tracks is called, (I guess they will, instead be) "Going Out With A Bang"!
2. UDO — February 3rd, USA,  January 23rd — Europe. The follow-up to to the latest studio LP; that one being "Steelhammer". The new one's called "Decadent". Can it get any heavier? So far, the title track has taken a more melodic approach — could it be melodic and heavy; take a quick peak back at 2009's video for the UDO song "Black And White". Balls-to-the-wall Accept-like heaviness has been the case on the last couple of UDO records. No mercy has been shown, as Udo and co. have gone straight for the throat! Who knows but, the rest of the full-length — upcoming, can be quite wicked! It may be a good idea to distance themselves, now, from the Accept sound, finally and truely. No worries, though, UDO always give us a corker!
3. Manilla Road — New album: On Friday the 13th, Feb. 13, 2015, "The Blessed Curse   After The Muse" … not sure if the words "After The Muse" is part of title. I am reading the banner, the Wichita-based Fantasy/Epic Metal band has designed. The tour-ending gig in New York City sent the band packing in high anticipation of continuing to make their best and their latest. The line-up is solid as a rock and is in tip-top shape. Loud and proud, expect something quite extraordinary when the new M.R. album drops.
4. Leprous — should have their 2015 album out in May. Technical and being scrutinized, is the process, not unexpectedly for this tightly-wound bunch.
5. Obscura — "Omnivium" from 2011, was the last one. The band are asking fans for trinkets/momentos of the band, photos being the best — like, after or during a show. It may take a while. [email protected]. So far, three studio albums have come down the pike for this band that uniquely, though taking a cue from Opeth, use elements of Prog in Death Metal. Give 'em time and Obscura will surely give us a beaut'.
– Rich Castle