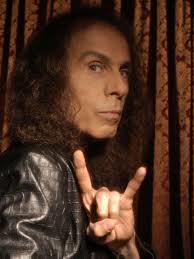 1. Death. FM:  NECROPHOBIC — 'Rimthurson",  title track  from  the Swedish Blackened Death veterans'  2006 LP.  Necrophobic have stepped up their game from earlier works mired in, that bit touch too much of, thickened darkness. Yet Necrophobic were always great. They set out originally to appeal completely to an Underground hardcore Blackened Death Metal audience. They were very adept at doing just that.
2. Ready Metal On — The Heavy:  OUIJABEARD — "Moon Empire" from "DIE AND • LET LIVE" 2012 debut LP. I keep thinking this band is called Ouijaboard. Can you blame me? An absolute welcome surprise. Ouijabeard have offered a good one, today.
3. Ready Metal On — The Heavy:  KIRK — Lead-off track, "Devil's Claw" from 2012's "Masquerade"LP, on Mausoleum Records. A thrashing, powerfully Progressive, early Fate's Warning-like number strikes hard.
4. Radio Gothic: GWYLLION — "Rage", the lead-off track from their sophomore album, "The Edge Of All I know" (released on the Black Bards label) is Symphonic Power Metal reminiscent of both Zed Yago/Velvet Viper and latter Helloween. The band split up, leaving two albums in their wake. It's too bad, as this song — alone — is a barnstormer.
5. Prog.FM: EXPEDITION DELTA – "Not Too Late" — from the "Expedition Delta" LP. If the Electric Light Orchestra played heavier, they would sound like the brash Expedition Delta.
6. Austria's Rock Section FM — DESERT SIN — These Pure Steel Records recording artists, show 'em how it's done. Instantly catchy in the best Heavy Metal sense of the word. DESERT SIN are, thankfully P.O.D.-like sans any of, even the slightest, Nu Metal trappings; though I don't feel a comparison to any band is really necessary except on first exposure. The denim-and-leather clad, Austrian DESERT SIN are the business. Metal could use the band's  keen melodic sense, as exposed, on this song alone — to the nth degree.
7. The Czech Republic's Black Diamond Radio, "Your never ending stream of metal!"; the radio station is billed, doles out the long-standing band, ANGRA — "The Voice Commanding You". The track is culled from their sixth LP of eight, Progressive Metal studio albums. The album that this track is from, is "Aurora Consurgens". Great double-bass kick drums propel the capably steady band forward.
8.  Next up, also cued up next — after a RUNNING WILD Germanic Metal number, on Black Diamond Radio, is ALLEN • LANDE — "Down From The Mountain". The cut is from the brand new fall 2014 album, as the hot collaboration by  two virtuoso Metal musicians comes down the pike to shake things up. The song gels nicely after two previous full-lengths have led to this greatness, far superior to the Allen • Lande albums that have went before the latest corker. This perked up my morning! The Swedish vocal duo have unleashed "The Great Divide" LP. "Down From The Mountain" is incendiary, combining Jorn Lande's star Halford-meets-Kiske, styled vocals, paired once again, along with the star singer of Symphony X (among others) infamy,  Russell Allen. Frontiers Records have a great project band on their hands. This is the album that is going to go places as Timo Tolkki is is helming the project for the first time. His songwriting and project production prowess, is top-notch as well as being a multi-instrumentalist  of world-renown in the field of Heavy Metal and it's offshoot sub-genres.
9.  Italy's Hard 'N' Heavy radio has me pouring another coffee, with my mouth hanging wide open, as the geetar supreme master, JOE SATRIANI pipes in the down-to-Earth strains of "Is There Love In Space"'s mind-boggling electric lead,  "Searching". Satch is on fire on this one! Recommended for all serious students of the guitar. Satriani is a rare breed, as he plays like he's from another planet, yet teaches in a very engaging and well-informed manner.
10. Norway's Metal Express Radio, a favorite of mine, has chosen the Kevin Dubrow (RIP)-led QUIET RIOT to light the fuse to my morning. "Killer Girls", eh?
11. Metal Express Radio: Next up is KISS, "Nothin' To Lose", from the 1975 "Dressed To Kill" LP. NYC's Hard Rockin' icons sound great, as the great voice of Peter Criss (about to make a heavier-solo-album-than-usual, for 2015) is quite audible on this one.
12. The early morning office jubilee continues with The CREAM casting their everlasting coolness on this freezing day in December, 2014, via their rendition of the blues chestnut, "Crossroads".
13. Metal Express Radio, gets the nod to stay on, as a suprise BLACK SABBATH mini-medley is ripped out  with "Lonely Is The Word" and "Letters From Earth", both set loose by the master vocalist, Jorn Lande, (once again), lighting up the airwaves. The album it's from is JORN — "Symphonic".
Today's Death Scream radio playlist, has been piped in by Tune-In Radio.
— Rich Castle