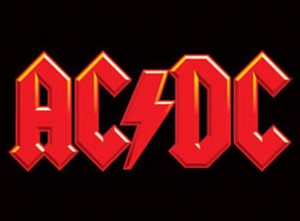 AC/DC: "Rock Or Bust" — Deathscream.net Spotlights the Aussie Superband
"Rock Or Bust" is AC/DC's late 2014, new powerhouse studio album. This is the kick in the arse that Metal/Hard Rock/Classic Rock/and-whatever-else, needed.
2015 is off and running. I have talked with enough people, and seen and heard, quite enough to know that 2015 is going to be a big year for straight-ahead, heavy music.
The ghost of the studio album, "Flick Of The Switch", is summoned forth — if your ears be so inclined as to hear (and agree) with this comparison — on the first videos from "Rock Or Bust". "Flick Of The Switch" was released in 1983, the successor to the string of three albums that catapulted AC/DC into the big leagues, making them a household name
throughout the world, which they already were in Australia (along with the band Rose Tattoo), with 6 of their albums in local record racks.
The three AC/DC chart-topping albums: 1979's "Highway To Hell", 1980's "Back In Black", and 1981's "For Those About To Rock". Famously, the "F.T.A.T.R" tour featured cannons lined up on stage, cued for frontman, Brian Johnson's call to arms for the 21-gun salute for Those About To Rock!
"Play Ball", the lead-off video/single from the "Rock Or Bust" album to come out, shows AC/DC going for the jugular on a simple, efficiently constructed short number. "Play Ball" will surely be heard piped in over the PA, as America's baseball season gets under way, come springtime 2015.
"In rock we trust, it's rock or bust" — lyric from "Rock Or Bust" title-track, video/single
That maxim says it all. After several years, AC/DC have returned with new original music.  Angus is still clad in his per usual school boy uniform, regalia. 15, (17, for Australia), studio albums have been racked up in the AC/DC studio album cache, to date.
Just like the AC/DC we know and love, notwithstanding the todge that was the last album — "Black Ice" — this title-track shows up as a video, "Rock Or Bust"; it's just what the Rock & Roll doctor ordered. In addition to this lead-off track to the latest AC/DC campaign, the "Rock Or Bust" LP — which should silence critics — the videos are representative of the band's new found  knack for knocking out short, sharp, snappy numbers.
Angus fires off one of his best leads on the song, "Rock Or Bust, recalling what we heard when we tuned into 1990's "The Razor's Edge" LP. Angus' phrasing is simply perfect, replete with the accents — on the notes — in all the right places.
"Got some rock and roll thunder. I got some rock n roll thunder. Hey, Hey, Hey" — "Got Some Rock & Roll Thunder" — video/single
The last three lines are from the austerely-titled (that's AC/DC!), "Got Some Rock & Roll Thunder". Brian Johnson and Angus Young seemingly come right off the screen at ya, with a stripped down performance of the band rockin' on stage, like only this Aussie Hard Rock group knows how. If you see 'em live, in concert, you'll add Heavy Metal to the description of their music, for damn sure. Brian Johnson's "Hey, Hey, Hey" is sung, with just the right phrasing, vocally, in the long tradition of lead
howlers to grace a stage. The lead guitar phrasing of Angus is perfectly parlayed, once again, per usual.
When checking out AC/DC's new material, keep in mind that Malcolm Young has had to leave the band, sadly, due to illness — with fans wishing the very best for his ongoing care. that the ex-AC/DC rhythm guitarist is undergoing. Malcolm's exit presents a big challenge, going forward.
Bob Richards is seen manning the skins instead of the beleagured Phil Rudd, on these latest AC/DC videos. When AC/DC's 40th anniversary tour begins, in 2015, we'll see Angus' brother Stevie Young completing the guitar tag team. Phil Rudd's penchant
for getting in trouble — an altercation as recent as December 3rd, 2014 caused the AC/DC veteran drumme to be hauled in front of a judge, yet again. Not spring chickens anymore, the members of AC/DC may not want a loose cannon (sic) on stage, performing. Phil Rudd, who in a recent bust was in possession of methamphetamine, has the AC/DC band member probably not wanting the 60-year-old skinsman bringing his personal and legal baggage along for the band's 2015 World Tour spectacle.
Getting ready for a spin of AC/DC's "Rock Or Bust" album, once again, to make sure about first impressions, Death Scream 'zine can tell you that "Rock The House" and "Rock Candy" see the 60-year-old Brian Johnson, AC/DC frontman, singing his trade-
mark womanizing lines. "Emission Control" is a Led Zeppelin's fan's wet dream, as the new album's closing track. 11 tracks in 34 minutes, though, may bespeak just a wee bit of the missing rhythmic flourishes of Angus Young's older brother Malcolm that take a bit of extra minutes to froth forth; traditionally. Angus and Malcolm, at their magical best, would hook on to a seismic groove — created by the two close brothers — and ride the wave.
Elsewhere, on the "Rock Or Bust" LP: "Dogs Of War" could be old Accept, with it's "Balls To The Wall" backing vocals called to mind, carried along on an incessant 4/4 beat. The rest of the songs on this latest AC/DC album are all enjoyable bursts of positive energy.
Going forward it's AC/DC 's  founder, Angus Young's airship to steer, solely now. Be of good cheer, however, AC/DC fans: Steve Young has already come forward in 1988 to step into the role of rhythm guitarist seamlessly, as was necessitated at the time, on an AC/DC World Tour. So it's relatively safe knowledge that the band will play on, not missing a stride. AC/DC lost Bon Scott (RIP), going way back in the band's history, yet within the space of only about one year, the Australians icons came roaring back. In tow was a brand new singer, still fully ensconced within the band, the light-hearted joker named Brian Johnson.
"Fire It Up, take full flight and fly. Fire it up... "Emission Control".
For AC/DC: They're back in black, rock or bust!
– Rich Castle