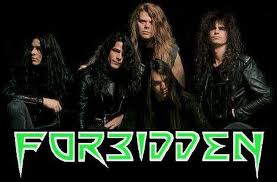 Reactivated San Francisco Bay Area thrashers FORBIDDEN have announced their second headlining run of North America. Joining them on the road will be tech-death thrashers REVOCATION, traditional heavy metal champions WHITE WIZZARD, and Colorado-based thrash merchants HAVOK.
Commented FORBIDDEN guitarist Craig Locicero: "FORBIDDEN is proud to announce our first proper headlining tour in 16 years throughout the North America this summer! Finally! We will be bringing out REVOCATION, WHITE WIZZARD and HAVOK along for the fun. These bands are all hungry, cool and young guns and they will add to the excitement!
"Something we witnessed last winter was the economy crushing many tours. A lot of kids just can't afford the ticket prices anymore.
"When we made the jump to the Pantheon Agency a few months ago, we made it clear that we wanted a reduced ticket price and all ages venues. That way all the fans of FORBIDDEN can afford to go and bring their friends of all ages along for a real thrash experience! Well that is just what we've done.
"Ticket prices will be between $10-$15 everywhere we play.
"Step one is complete!
"Step two is the actual gigs themselves. We will be starting at the Whisky in Hollywood on June 9 and then we head North into Canada for an extensive run into the East, South, Midwest to eventually end the tour in San Diego on July 2. These will be raw, intimate and bare-boned thrash metal shows. Exactly how we started it. How it was meant to be!
"So tell your friends, grab your kids…whatever it takes. You are ALL invited to join us on this 'Omega Wave'!"
The dates are as follows:
June 09 – Whisky A Go Go – West Hollywood, CA
June 11 – The Alley – Sparks, NV
June 12 – Hawthorne Theater – Portland, OR
June 13 – Studio Seven – Seattle, WA
June 14 – Rickshaw Theater – Vancouver, BC
June 15 – Sapphire Nightclub – Kelowna, BC
June 16 – Pawn Shop – Edmonton, AB
June 17 – Riddell Centre – Regina, SK
June 18 – Royal Albert Arms – Winnipeg, MB
June 20 – Mad Planet – Milwaukee, WI
June 21 – Reggie's Rock Club – Chicago, IL
June 22 – Peabody's – Cleveland, OH
June 23 – Montage Music Hall – Rochester, NY
June 24 – Championship Bar and Grill (at The Backstage) – Trenton, NJ
June 25 – Alrosa Villa – Columbus, OH
June 26 – Fubar – St. Louis, MO
June 27 – The Beaumont Club – Kansas City, MO
June 29 – The Marquis Theatre – Denver, CO
June 30 – Launchpad – Albuquerque, NM
July 01 – The Clubhouse – Tempe, AZ
July 02 – JT's Limelight – Escondido, CA
"Omega Wave", the new album from FORBIDDEN, sold around 950 copies in the United States in its first week of release. The CD landed at position No. 27 on the Top New Artist Albums (Heatseekers) chart, which lists the best-selling albums by new and developing artists, defined as those who have never appeared in the Top 100 of The Billboard 200.
"Omega Wave" was released in Europe on October 22, 2010 and in North America on October 26, 2010 via Nuclear Blast Records. It was recorded at Sonic Room/Audio Voyage Studios in Livermore, California, produced by FORBIDDEN guitarist/songwriter Craig Locicero with Tim Narducci, and mixed by Sean Beavan (SLAYER, MARILYN MANSON, NINE INCH NAILS).
FORBIDDEN's current lineup consists of Russ Anderson on vocals, Craig Locicero on guitar, Steve Smyth on guitar, Matt Camacho on bass and Mark Hernandez on drums.
Via Blabbermouth
Death Scream – Heavy Metal Reviews – Heavy Metal Interviews – Heavy Metal News