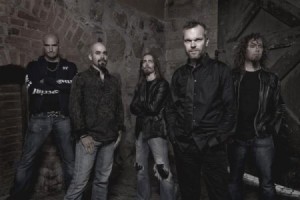 "Vid Rosornas Grav", the new video from Swedish metallers FALCONER, can be seen below. The track comes off the band's seventh album, "Armod", which was released in Europe on June 3 via Metal Blade Records. The CD features 11 songs completely sung in Swedish and four bonus tracks that are said to be English versions of the bandmembers' favorite new songs.
Commented FALCONER guitarist Stefan Weinerhall: "Let's see how the fans react to an album entirely in the worldwide spread language Swedish.
"For us it feels good to finally have focused on our native heritage in music, although it could have been even more focused, but, of course, we have to have the familiar FALCONER stuff stuffed in here and there.
"To promote this album in the true FALCONER style, we will take a year off to do other things."
"Armod" was once again recorded at KING DIAMOND guitarist Andy La Rocque's Sonic Train Studios in Varberg, Sweden during December and January. FALCONER stated, "The recording and mixing process went smoother than ever before.
"The album is embracing the Swedish folk music to a greater extent than before making it sound slightly more down to earth.
"The music spans from acoustic songs with cello, flute and fiddle to songs with blast beats and really heavy riffing.
"As said before this is a 'one-time-only' album and does not define the future sound of FALCONER, but it was about time to pay full notice to the infuence that has always made us different. Now we have that out of our system!"
"Armod" track listing:
01. Svarta Änkan
02. Dimmornas Drottning
03. Griftefrid
04. O, Tysta Ensamhet
05. Vid Rosornas Grav
06. Grimborg
07. Herr Peder Och Hans Syster
08. Eklundapolskan
09. Grimasch Om Morgonen
10. Fru Silfver
11. Gammal Fäbodpsalm
FALCONER is:
Mathias Bladh – Vocals
Stefan Weinerhall – Guitars
Jimmy Hedlund – Guitars
Magnus Linhardt – Bass
Karsten Larsson – Drums
FALCONER in 2007 extended its deal with Metal Blade for another four albums.
Via Blabbermouth
Death Scream – Heavy Metal Reviews – Heavy Metal Interviews – Heavy Metal News