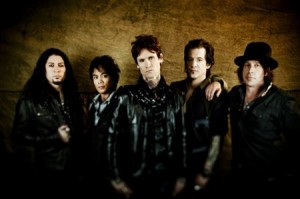 Ted Rock of RockAAA conducted an interview with Jimmy Ashhurst and Keith Nelson of California rockers BUCKCHERRY at this year's edition of the Download festival, which was held June 10-12, 2011 at Donington Park in Leicestershire, United Kingdom.
BUCKCHERRY members Josh Todd and Keith Nelson sat down with EspyRock for an interview in which they revealed that they're working on material for their sixth studio album, which will follow up last year's "All Night Long". Todd said, "Things are coming along good, we're having fun and we've got around five demos wrapped up but it's still very early and we need to get everyone in a room and just jam." Keith Nelson added, "I just think the pervasive feeling of the stuff we're coming up with, we're just trying to come out of our comfort zone a little bit. Really trying to push the envelope without getting away from the sound that you and love of this band but I think we're going to try to push the envelope and go for something cool and different."
The guitarist added that he expects the album to come out next spring, with the band getting to work soon after it finishes touring later this year.
BUCKCHERRY will team up with PAPA ROACH to co-headline the Rock Allegiance Tour, with PUDDLE OF MUDD, P.O.D., RED, CROSSFADE and DRIVE A also on the bill. The tour will kick off on August 24 in Grand Prairie, Texas.
Via Blabbermouth
Death Scream – Heavy Metal Reviews – Heavy Metal Interviews – Heavy Metal News