Destruction- "Day Of Reckoning"- 2011 LP (Nuclear Blast)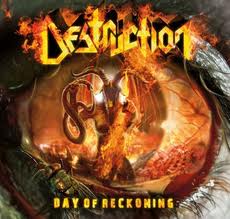 Destruction, Kreator and Sodom. Schmeir, Mille Petrozza and Tom Angelripper are the mainman/mainstays of these German Death Metal warhorses that have been trudging along since the mid-1980's.
Hopping along like a real fun thrashterpiece is this instant classic from the above mentioned bass playing frontman Schmeir and crew that are Germany's Destruction.
They haven't forgotten how to make a great death metal album.
Maybe, unlike other bands, they keep churning albums out without a great deal of time in between to get rusty.
It has been a while since Destruction have sounded as charged up as they do now.
"Day Of Reckoning", as cliche as it sounds, takes no prisoners. It is almost as if the cliche was invented for this new killer album.
Let's take a look back at past Destruction studio albums, to get a sense of perspective.
1985 saw the debut classic "Infernal Overkill" rise from the depths. So that's where Hellwitch, who have just returned with their "Omnipotent Convocation" for 2011 also, got the idea for their 1990 "Syzygial Miscreancy" album cover art. It just dawned on me all these years later as I peer at all the Destruction album covers. Recently I reviewed the new Hellwitch.
1986's "Eternal Devastation" is a bonafide teutonic thrashing-death classic.
1987/88's "Release From Agony" was a case of how-to-be-technical-and-not-be-boring while remaining Death Metal. And it worked like nobody could have ever predicted. It is a personal fave of mine from Destruction. Destruction have always like Sodom made EPs worth getting also, by keeping the focus on catchy, good strong songs.
1990's "Cracked Brain" is the 4th studio Destruction LP and ain't much fun at all.
Though in retrospect it may be worthy to revisit.
"Cracked Brain" actually reminded me of countrymates/fellow Germans S.D.I. and Necronomicon. That may be due to the weakened production values making Destruction sound a little less heavy.
"All Hell Breaks Loose" broke loose 10 years later and stylistically it's closer to blackened Death Metal than the usual Destruction warfare.
1998's "The Least Successful Human Cannonball shouldn't even be part of Destruction's album catalog as 'alien' as it sounds.
2002 saw the release of Destruction's "Antichrist"; a crunchy metal beastie. It was quickly followed up by "Metal Discharge" which was an attempt at straight ahead thrash.
"Inventor Of Evil" was churned out by Destruction in 2005 and had that immense track on it called "Dealer Of Hostility". "Dealer"'s livid Slayer-isms and early Dark Angel's deep, dark feel made it a career stand out track for these Germans.
"D.e.v.o.l.u.t.i.o.n." from 2008 is horrible and forgettable. Don't waste money on it.
"Day Of Reckoning" is here in 2011 with instant classics like "Armageddonizer" and "Devil's Advocate. "Church Of Disgust" is a good example of how Destruction have taken what was bad on their last album and made good this time around.
There is true metal angst in the Destruction crew; rounded out by Mike Sifringer on guitar and Vaaver on drums, that speaks of the dark tunnel humanity is in at the moment.
Destruction have really succeeded with the aforementioned "Devil's Advocate" as it sounds catchy like modern Sodom circa  "Till Death Do Us Unite"'s best tracks.
Then there is "The Price" which is worthy of the price of admission. The song rips and shreds at high thrash speeds.
If you want to check out Destruction for five minutes then go to You Tube and watch "The Chosen Ones" unfold. A balls out, high speed thrasher. Destruction helped invent the death metal genre over in Europe. And it shows. 1983- 2011 and beyond:
Destruction are here to stay.
– Rich Castle
Death Scream – Heavy Metal Reviews – Heavy Metal Interviews – Heavy Metal News