Benedictum- "Dominion" 2011 LP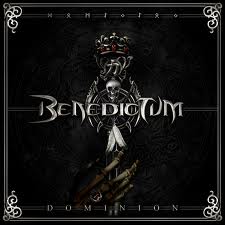 If Veronica Freeman looking for all the world to see like the lady in black wasn't enough to get your blood pumping; with her band that she fronts – Benedictum breaking out in 2006 with the Black Sabbath smash-hit "Heaven And Hell" on their "Uncreation" disc, they have in early March, 2011 unleashed their cover of  Rush's "2112" doing "Overture/Temples Of Syrinx" as a bonus on this new "Dominion" disc.
The song sounds quite strange in the hands of Gothic Pseudo-Death Darkened Power Metallers Benedictum.
As a woman, Ms. Freeman is able to handle doing Rush's Geddy Lee (Vox/Bass player)'s high-pitched 'ahhhs' in the "Overture" section of this timeless classic.
"2112" is a song about a Utopian society against individualism. Ayn Rand, to name a special writer, is one of the people in this world that Neil Peart of Rush (Lyricist/drummer/percussionist/all-around Brain) read books by to be able to make the stupendous story that is being the musical masterpiece "2112".
The 8 and 1/2 minutes, exactly, that Benedictum's Rush cover runs went by very quickly so immensely enjoyable is this track.
Listening to Benedictum do such an ambitious track brought to mind the band Velvet Viper, from Germany. Does anybody remember them? Never mind, as they are quite an obscure Power Metal band. It has to do with the female vocalist named Jutta Weinhold.
Back to the "2112" cover: Benedictum have a special surprise for you all; they left out of the song title that they also do "Part VII. The Grand Finale" of "2112" by having the song morph into the ending.
Ms. Freeman's voice as she croons out the words to it "Attention all planets of the Solar Federation / Attention all planets of the Solar Federation / Attention all planets of the Solar Federation / We have assumed control / We have assumed control / We have assumed control", remind me of a Rush tribute album of a few years back that had a woman saying the words. I thought it was a good idea then. No one can deny Geddy Lee of Rush in his younger days did have that male with a sometimes female voice thing going on.
As far as the rest of this disc by these Californians, Benedictum; "Dominion" being the third album of the band's career; things are looking real good these days. The band have finally hit their stride and settled into a very darkened, almost vampyric gothic metal niche while still remaining very power-metal like.
"Uncreation"-2006, "Seasons Of Tragedy"- 2008 and "Dominion"- 2011 form the bands full-length album discography, so far. And so far, so good. Benedictum have triumphed with the track called "The Shadowlands" as Veronica Freeman begins with her crystal- clear pipes "… eternal destruction and pain…"; the choppiness of the guitars holding themselves back to help bring the focus to bear on the femme fatale frontwoman.
"The Shadowlands" is an instant Metal classic.
"Loud Silence" has a flanging sonority to it that frames a helluva vocal performance, once again from Veronica. Maybe it is not the most original chord progression ever heard but the lead vocals of this frontwoman work their magic. And magic is hard work.
"Bang", paradoxically, sounds forced and just doesn't work. The song features shouted back-up vocals. It is too neo-modern and out of context in the framework of "Dominion".
"Seer" is a cut on this album that shines a gloomy light that Benedictum really shine in. I didn't care for Benedictum's "Uncreation" album as tracks like "Valkyrie Rising" was more suitable for Manowar or Yngwie J. Malmsteen's stuff. Very dark subject matter is the way to go for Benedictum. "Seer" really shows maturity in the way of the band as a whole unit working together.
The drums are the best they have ever been on any Benedictum album.
"Epsilon": Let's take Angela Gossow of Arch Enemy (toned down quite a lot but) and cross her with Cristina Scabbia Of Lacuna Coil and add a dash of Udo (Dirkschneider) of Accept and we have what hardly fits San Diego where Veronica Freeman and the boys hail from; tunes like this sound very European styled.
Ms. Freeman is very different, though, than say Sharon Der Adel of Within Temptation and the closest comparison is certainly that of Nightwish's Tarja Turunen at least in overall appearance. The knock 'em dead looks at the front of the stage get a thumbs up from me and bodes well for Benedictum. This is heavy metal, though, and looks don't mean all that much. Ronnie James Dio was no Robert Plant; as long as the dude could sing.
"Epsilon" is more of the solid material I had been hoping Benedictum would crank out.
"Dominion" is the title track. I can't say enough great things about it. This is Accept meets Doro Pesch territory. Do I detect some growls? Nice. The chunky early 1980's Metal riffing style with the digital precision of this new century make for a very very satisfying listen, indeed.
"Dominion" is an album that makes Benedictum contenders and a band to be taken seriously. They sound like they have done their homework as you will be reminded of many a Metal icon while listening to this most enticing album.
After listening to "Dominion" I know that as Judas Priest's Rob Halford sang: "We gonna rock forever".
– Rich Castle
Death Scream – Heavy Metal Reviews – Heavy Metal Interviews – Heavy Metal News