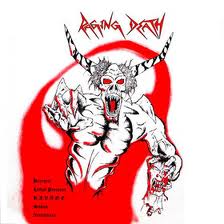 'Raging Death' 1987 compilation LP, Godly Records
Godly Records is a label that was founded by the scribes, Borivoj Krgin and Marty Eger who brought you the fanzine Violent Noize.
One of the bands featured on this album, Executioner, had just changed their name to Xecutioner.
When this album hit the market for mass Heavy Metal consumption, it could immediately boast of being the heaviest compilation album ever released.
With the groups Sadus, Lethal Presence, R.A.V.A.G.E., Xecutioner not to be confused with the American album making band Executioner, and Betrayel giving two cuts each. This album is a forerunner of what Death/Thrash Metal would be like in the future.
All of these five bands sound better on vinyl than on their demo tapes.
Side one synopsis:
Florida's Xecutioner leads this future-glimpsing LP with a song that would have journalists like myself salivating till the band would release their first album.
The song is called 'Find The Arise' and it blasts out like a cannon from my stereo speakers.
It is John Tardy's vocals that are instantly phenomenal. If that name rings a bell it is because Xecutioner changed their name to Obituary.
'Strangled Death' by the Toronto, Ontario, Canadian band generically  named Lethal Presence are a bit lacking in the vocal department. After hearing John Tardy before this, almost anyone would sound less brutal and effective.
San Francisco, California's Betrayel does 'D.D.P.' which stands for 'Destruction, Death, and Pain'. This tune is done with precision and the accent is on heaviness rather than speed.
Brandenton, Florida's R.A.V.A.G.E. displays the urgency and energy not found too often in other bands trying to make it.
California's Sadus is up next in the queue bringing speed galore on 'Kill Team'. Their 'D.T.P.'- 'Death To Posers' demo was a must to acquire as Death and Speed Metal were merged most successfully on it.
In Death Scream Magazine's Issue #3, I remarked how Rob Moore, lead vox and frontman of Sadus sounds like Tony Portelli, from the American Speed/Thrash Metal band trio called Whiplash, getting strangled — and those with keen Metal underground knowledge and a discerning ear will recognize that the chorus in 'Kill Team' is similiar to Whiplash's 'Power Thrashing Death'.
Side two synopsis:
Betrayel leads off side two of 'Raging Death' with 'Another Sacrifice'. 'D.D.P.' from the first side of this album was much better than this offering.
'Another Sacrifice' does not appear on Betrayel's 'Helpless Souls' demo tape.
'Helpless Souls' is a great demo and doesn't have any mediocre tracks like this one, so this may be the reason it is inferior to Betrayel's greater body of work.
'Like The Dead' by Xecutioner is a stand-out song just like their other contribution on side one of this compilation, 'Find The Arise'.
Godly Records was touting that Xecutioner's debut LP would come out on their label in early 1988.
'Twisted Face' is another screeching speedster by Sadus.
Lethal Presence is next up with 'Unholy Alliance'. It is a pleasant surprise as it is a much better composition than 'Strangled Death'.
'On They Slay' shows R.A.V.A.G.E. can be brutal and write a darn good song, also.
To sum up: Xecutioner, Sadus, and R.A.V.A.G.E., in that order are the best bands on this compilation with Lethal Presence not too far behind them at all.
Betrayel would have needed to beef up their attack to be able to compete with the heaviness of the other bands that they share this album with.
Hunt this album down if you are a fan of Obituary or Sadus or you're just feeling nostalgic.
– Rich Castle
Death Scream – Heavy Metal Reviews – Heavy Metal Interviews – Heavy Metal News