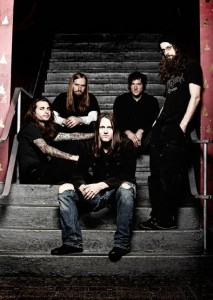 Washington D.C. metallers DARKEST HOUR have been forced to cancel their appearance at this year's edition of the massive, three-day New England Metal And Hardcore Festival, set to take place Thursday, April 14 through Saturday, April 16 at he Palladium in Worcester, Massachusetts. The wife of guitarist Mike Schleibaum wife went into an early labor this week and the couple welcomed their first child into the world on Tuesday. They are pleased to report that both the mother and daughter are healthy. No official photos have been made available, but rumors have already surfaced that she's got shred-happy fingers just like her father!
Commented DARKEST HOUR in a statement: "We regret to announce that we must cancel this year's appearance at the New England Metal fest. It has become a bit of a tradition for us, so many great bands, it will be a bad-ass party, for real. But it is with the same breath that we congratulate Mike and his family on the birth of a new baby girl. She came a bit early to the party but baby and mom are doing fine.
"Worcester is a metal-ass town and we will make it up to you all soon!
"We will see you in the pit this summer with BLACK DAHLIA and the traveling circus that is Summer Slaughter. Until then, cheers to new life!"
DARKEST HOUR's sixth album, "The Human Romance", sold around 3,600 copies in the United States in its first week of release to debut at position No. 185 on The Billboard 200 chart. The CD landed at position No. 3 on the Top New Artist Albums (Heatseekers) chart, which lists the best-selling albums by new and developing artists, defined as those who have never appeared in the Top 100 of The Billboard 200.
DARKEST HOUR's previous album, "The Eternal Return", opened with 4,700 units back in July 2009 to enter the chart at No. 104.
"The Human Romance" was released in Europe on March 7 via Century Media Records. The CD was recorded at a North Carolina studio with producer (and SOILWORK guitarist) Peter Wichers.
"Savor The Kill", the new video from DARKEST HOUR, can be viewed below (courtesy of ARTISTdirect.com). The clip was filmed in Los Angeles with in Los Angeles with director Ramon Boutviseth, who has previously worked with TRIVIUM, INCUBUS and ALL THAT REMAINS, among others. The video features a timber wolf known for its use in the ABC show "The Gates" and both "Twilight" movies.
Via Blabbermouth
Death Scream – Heavy Metal Reviews – Heavy Metal Interviews – Heavy Metal News