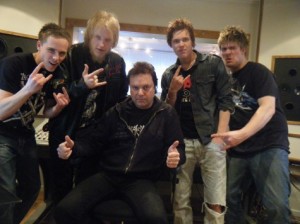 KING DIAMOND guitarist Andy La Rocque has contributed a guest guitar solo to a cover version of the METALLICA classic "Seek And Destroy" which will appear on the forthcoming EP from the Norwegian heavy metal band CRITICAL SOLUTION. Entitled "Evidence Of Things Unseen", the CD was recorded at La Rocque's Sonic Train studios in Varberg, Sweden and features the following five songs:
01. Dead Man Walkin'
02. Sad Hill
03. Crime Of Passion
04. Seek And Destroy (METALLICA cover; feat. Andy La Rocque)
05. War Machine
A mid-May release via iTunes and Spotify is expected.
CRITICAL SOLUTION is:
Christer Slettebø – Lead Guitar/Vocals
Egil Mydland – Drums
Tov Glesnes – Rhythm Guitar
Eimund Grøsfjell – Bass
"Seek And Destroy" (METALLICA cover; feat. Andy La Rocque) audio stream:
Via Blabbermouth
Death Scream – Heavy Metal Reviews – Heavy Metal Interviews – Heavy Metal News