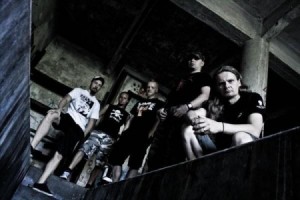 Into The Light, the new video from Finnish death metallers CORPSET, can be viewed below. The song comes off the group's debut album, "Ruins", which is scheduled for release on April 27 via Violent Journey Records. The CD was recorded at various facilities — from professional studios to a horse ranch in the Finnish countryside — and was mixed and mastered at the Coal Hole studio in Hämeenlinna with the group'a former bassist and studio pro Janne Tauriainen.
According to a press release, "Ruins" is "a ruthless ten-piece of contemporary Finnish death metal. With combining old-school sounds to more modern approach and joining hook-filled melodies with pure aggression, 'Ruins' is sure to put Finnish metal-scene on its knees. CORPSET, holding some familiar names from different well-known Finnish acts in their lineup, has managed to create a breath-taking example of twisted Finnish death metal and is a welcome breeze of fresh air to today's stiff metal soundscapes."
"Ruins" track listing:
01. The Light Divine
02. Castrate
03. Blair
04. Moment Of Clarity
05. Into The Light
06. Give & Go
07. World Hate Center
08. Behind The Sauna
09. V.P.O.
10. Caesar's Palace
A CD-release party will be held on Friday, April 29 at Vastavirta Klubi in Tampere.
CORPSET is:
Jari Kelloniemi – Guitar
Jami Heikkala – Guitar
Timo Hanhijoki – Drums
Petri Palonkoski – Bass
Antti Murtonen – Vocals
Via Blabbermouth
Death Scream – Heavy Metal Reviews – Heavy Metal Interviews – Heavy Metal News