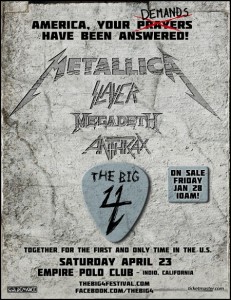 Artisan News Service spoke to members of ANTHRAX and MEGADETH about this past Saturday's (April 23) debut performance on American soil by the "Big Four" bands of 1980s thrash metal — METALLICA, SLAYER, MEGADETH and ANTHRAX — at the Empire Polo Club in Indio, California in front of a capacity crowd of more than 50,000 metalheads. Check out the footage below.
SLAYER guitarist Jeff Hanneman, who was forced miss all of the band's shows this year after undergoing emergency surgery on his right arm in January, made a surprise appearance during the group's set Saturday night, joining his bandmates on stage for the two-song encore of "South Of Heaven" and "Angel Of Death" (EXODUS guitarist Gary Holt filled in for Hanneman during SLAYER's main set).
The highly anticipated onstage performance of all four bands at the same time happened near the end of METALLICA's set, between "Enter Sandman" and "Hit The Lights". Members of ANTHRAX, SLAYER and MEGADETH joined METALLICA on stage for a cover of DIAMOND HEAD's "Am I Evil?" before METALLICA ended the night with its perennial set-closer, "Seek And Destroy" from the band's 1983 debut, "Kill 'Em All".
Photos:
* PE.com
* Examiner.com
* OC Reloaded
* KPSP-TV
Reviews:
* MTV.com
* The Hollywood Reporter
* Los Angeles Times
* ARTISTdirect
* Phoenix New Times
* Metal Shop Rocks
* The Desert Sun
The "Big Four" tour first played selected dates in Eastern Europe last summer to an fantastic response, which led to the scheduling of shows this year in the U.S. and other parts of Europe. There's no word yet on whether more "Big Four" events are in the works.
METALLICA drummer Lars Ulrich told The Pulse Of Radio the "Big Four" tour idea first came up in 2009. "We were sitting around and we were feeling pretty nostalgic at the time because it was right around the old Rock And Roll Hall Of Fame, Cleveland, induction thing there," he said. "So as you sit around and talk about your past and whatever, the idea of playing shows with the other, you know, members of the so-called 'Big Four' just came up, and it finally came together just over a year later."
Via Blabbermouth
Death Scream – Heavy Metal Reviews – Heavy Metal Interviews – Heavy Metal News