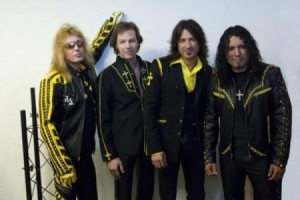 Oz Fox and Michael Sweet of Christian hard rockers STRYPER were interviewed on the latest episode of "Rusty Cooley's Guitar Asylum TV". Fox and Sweet talked about musical inspirations as well as guitar-hero influences that helped shape their songwriting and music. Check out the four segments below.
"Rusty Cooley's Guitar Asylum TV" is a 30-minute television show headquartered in Houston, Texas.
In a recent interview with the Houston Press, STRYPER frontman Michael Sweet stated about the band's Christ-filled message and hard-rocking attitude, "We grew up going to KISS and VAN HALEN shows. We didn't grow up in the church or get molded in the church like most other Christian bands. We came up in the rock scene and that is why we were a bit different in terms of delivery and approach and how we sound. We were called to go out in the world and into the bars, where other Christian bands aren't comfortable going."
He added, "We were in the right place at the right time and it was all about timing with us.
"When we rededicated our lives to Christ, we were one of the first bands to come out like us. Prior to us you had PETRA and others, but none were as edgy or packaged quite like us.
"God formed this band and called us to do what we do. Because of that, so many doors were open and so much history was made."
"The Covering", the new covers album from STRYPER, sold around 4,600 copies in the United States in its first week of release to debut at position No. 175 on The Billboard 200 chart. The band's previous CD, 2009's "Murder By Pride", opened with 5,900 units to land at No. 73.
Produced by frontman Michael Sweet, "The Covering" is unlike any previous STRYPER recording in that it's a collection of cover songs from bands that inspired them and helped to shape their sound and musical identity, including hits from JUDAS PRIEST, IRON MAIDEN, LED ZEPPELIN, KANSAS and many others. "The Covering" will also include "God", a new original recording from STRYPER.
Via Blabbermouth
Death Scream – Heavy Metal Reviews – Heavy Metal Interviews – Heavy Metal News