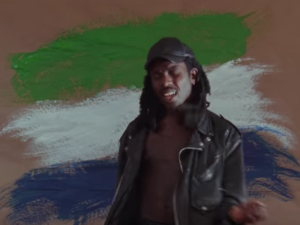 "… See, Augustine
Late have I loved and chose to see
Skin on his skin,
a warmth that I can feel with him…"
Poetically, and lovingly delivered, and ripping with aching urgent emotion, "Augustine" cascades forth, exceedingly, from the ambitious act known as Blood Orange onto the New York City music scene. As diverse in style as a Manhattan street corner, Devonte has once again — like many of his songs along the way — embodied the ethic of  big city life (with it's big city feeling) bursting forth with an uncanny, tight rhythmic cadence; his singing on "Augustine" woven into a rich reverb-laden tapestry.
Yet let me stop and not mince elaborate words here: "Augustine" is simply a beautiful new song.
Acts like Blood Orange have taken urban sounds from Hip Hop, Dance, and Rap music and learned to embody these diffuse street-borne elements into thoroughly melodic (and equal parts original), tuneage.
Yet, be sure that with B.O.'s Devonte Hynes — and the message is indeed personal — with each new original song  created can be found to still manage to maintain straight cred with tough guy "gangsters" by inserting a genuine, undefended whole heart into every song he creates.
Blood Orange has a slew of excellent videos to compliment the testimony of his audio tracks with his popularity surging: "Augustine" boasts some impressive stats for this Manhattanite: 1,242,1777 YouTube views in just 3 months.
Well done.
– Rich Castle