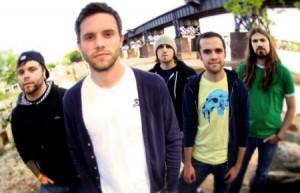 On May 5, Aniruddh "Andrew" Bansal of Metal Assault conducted an interview with guitarist Paul Waggoner of the North Carolina progressive rock band BETWEEN THE BURIED AND ME at the Glass House in Pomona, California. You can now watch the chat below.
BETWEEN THE BURIED AND ME's new album, "The Parallax: Hypersleep Dialogues", was released on April 12 via Metal Blade Records. The three-song, 30-minute tour de force was recorded at Canada's Metalworks Studios and Rattlebox Studios and helmed by the Grammy award–winning producer David Bottrill (TOOL, MUSE, KING CRIMSON, DREAM THEATER).
"The Parallax: Hypersleep Dialogues" represents BETWEEN THE BURIED AND ME's musical and conceptual masterwork; the record showcases both the quintet's vivid execution and ambitious vision. The otherworldly conceptual thread linking each of the songs is mobilized around two human characters that live in different planes of existence and are separated by millions of light years, each confronted with similar personal issues. Subsequently, both characters make decisions that will change their lives, and perhaps the course of the universe, forever. Musically, the release presents aura-rich atmospheres rife with roaring volumes, corrugated rhythms and trance-inducing intricacies. Cerebral and visceral, soft and heavy, melodic and abrasive, tender and brutal, familiar and strange and taut yet sprawling and epic, BETWEEN THE BURIED AND ME has crafted a sound that is musically sophisticated yet primal and a disc where every new passage leads to the culmination of an epic adventure.
"The Parallax: Hypersleep Dialogues" track listing:
01. Specular Reflection
02. Augment of Rebirth
03. Lunar Wilderness
"The Parallax: Hypersleep Dialogues" cover art can be viewed below.
Waggoner recently stated about BETWEEN THE BURIED AND ME's new CD, "'The Parallax: Hypersleep Dialogues' will introduce two human characters who live in different planes of existence, separated by millions of light years. We find that each is confronted with similar personal issues that they need to reckon with. Both characters make decisions that will change their lives, and perhaps the course of the universe, forever. Musically, it sounds like BETWEEN THE BURIED AND ME. The record has elements of aggression, beauty, quirkiness, and pure cacophony. For 'Part 1', we establish several themes which I'm sure will be revisited in the lengthier 'Part 2', which is something we really look forward to. We love to expand on simple ideas and see where they take us."
Via Blabbermouth
Death Scream – Heavy Metal Reviews – Heavy Metal Interviews – Heavy Metal News