Before The Dawn – 'Deathstar Rising' – 2011 LP, Nuclear Blast Records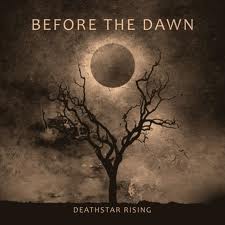 Dark Metal band Before The Dawn, who sound like legends already, come cranking up that beautiful blackened sunlight with 'Deathstar Rising' which made it's debut on the world stage on February 25, 2011.
Again, as Death Scream readers may know, I am not at all keen on the term Melodic Death Metal as it is not indicative of where the melody comes from: Is it the singer or the instrumentation? Where does the melody in a song lie?
Before The Dawn have eased into taken a more mature, seasoned approach with the current album.
Dressing in black, as usual, and not cracking a smile; always with the furrowed brows, B.T.D. outpace other so-called Melodic Death Metal bands like Soulfallen, Sonic Syndicate, Amorphis, Dawn Of Solace, Tiamat, Therion, and even the storied Opeth.
Do no doubt my words: B.T.D., let me stress for you, are one of the coolest cucumbers around.
If one listens to 'Deadsong' from the 'Deadlight' studio LP that B.T.D. released back in 2007, you can hear the mighty Disturbed's heart of darkness being assuaged on this cult track, alone.
What B.T.D. really are is Gothic Metal. The Gothic Metal tag is derived from carefully examing the combination of attitude, music, image and lyrics inherent in Before The Dawn.
B.T.D. hail from Finland and really pour out, this time around on this 'Deathstar Rising' album, their seriousness in new track and lead off number 'Winter Within' which seethes with profound underlying menace.
Maybe it has something to do with Tuomas Saukkonen, who does the dark vocals among other things in B.T.D., as the album closer 'Wraith' is for me the second highlight on this new release.
The band as a whole really, really shine their deadlight on 'Unbroken', 'Deathstar Rising"s runaway smash.
In addition to the vibrant acoustic guitar playing on this album B.T.D. inject melodious vocals also.
It is these subtleties that make 'Deathstar Rising' a true contender in the vast ocean of Death Metal.
– Rich Castle
Death Scream – Heavy Metal Reviews – Heavy Metal Interviews – Heavy Metal News