Becoming The Archetype – "Dichotomy" 2008 LP & new 2011 single
"Here at the end of the world / Planets fall & we are rising / Soul and sky are magnetizing / Here at the end of the world"
Becoming The Archetype have a clumsy band name. Are they all taken? No. Another immediate corner that this band paints itself into is by calling themselves Christian and Progressive as in their My Space entries. B.T.A .then go on to bill themselves as Metal/Death Metal/Progressive.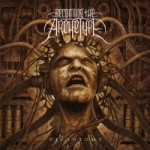 Okay; Think Death's "The Sound Of Perseverance" or Coroner's "No More Color". Cross those albums with Musician's Institute Of Technology know how. Top it all off with a Disturbed-like seriousness vibe throughout and, luckily, we're not all the way there.
Nile, Morbid Angel, and Possessed are some of the bands that come to mind listening to the disturbing death metal vox. Deep ala early John Tardy/Obituary.
And everything is going as planned, it seems, for B.T.A.'s extraordinary rise to the top.
The new single is worth a You Tube visit. No one-sided death metal vocal delivery will cut it in 2011 and the band know it and do something drastic about it.
It is called "The Magnetic Sky" with backdrop of a glorious angel. Choruses of vocals sing out the song.
Metal has Cauldron to fly the banner high. Death Metal has Becoming The Archetype to fly it's banner high. A lot has happened since the band's last album, "Dichotomy", which though nothing special, boasted great musicianship, a sparkling clear production, and a band so freakin' serious about deliverin' the goods that it made ya smile.
Check out the words that begin "The Magnetic Sky". They are pure poetry. B.T.A. can not only paint pictures with their music but also with their words.
"How Great Thou Art" is majestic metal- like and smoking and appears on "Dichotomy"; it's the best song, also.
Dacula, Georgia, is now on the Metal map.
Set the controls for the heart of the sun.
– Rich Castle
Death Scream – Heavy Metal Reviews – Heavy Metal Interviews – Heavy Metal News