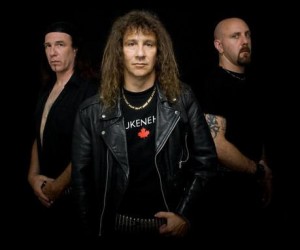 "Juggernaut Of Justice", the new album from Canadian metal legends ANVIL, can be streamed in its entirety on the band's MySpace page. Due on May 10 via The End Records, the CD was recorded at Dave Grohl's (NIRVANA, FOO FIGHTERS) Studio 606 in Northridge, California with famed producer Bob Marlette (BLACK SABBATH, AIRBOURNE, FILTER, ATREYU, ALICE COOPER). A special-edition two-song single featuring the tracks "Juggernaut Of Justice" and "FukenEh!" was made available on April 19 at select indie retail stores.
The iTunes version of "Juggernaut Of Justice" contains a bonus track, "What I Want To Be".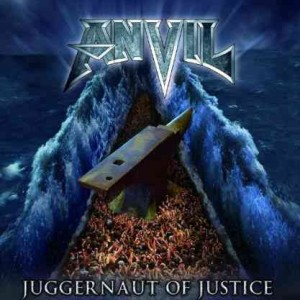 ANVIL threw an intimate, invite-only advance listening party for "Juggernaut Of Justice", at Toronto, Ontario's new Noble Street Studios during the Canadian Music Week. Several press outlets were given the chance to listen to the CD in its entirety in the studio's state-of-the-art master control room and Hellbound.ca was there to soak it all in, shoot some photos, shoot a couple of quick videos and enjoy a few tasty Steam Whistle beers as well. Check out the report at this location.
"Juggernaut Of Justice" track listing:
01. Juggernaut Of Justice
02. When Hell Breaks Loose
03. New Orleans Voodoo
04. On Fire
05. FukenEh!
06. Turn It Up
07. The Ride
08. Not Afraid
09. Conspiracy
10. Running
11. Paranormal
12. Swing Thing
The "Juggernaut Of Justice" song is available for download as part of The End Records' spring 2011 sampler
Via Blabbermouth
Death Scream – Heavy Metal Reviews – Heavy Metal Interviews – Heavy Metal News