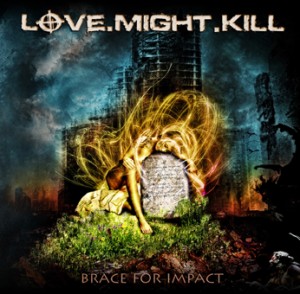 A new five-and-a-half-minute trailer for "Brace For Impact", the debut album from LOVE.MIGHT.KILL, the German/Italian melodic metal band led by drummer Michael Ehré (FIREWIND, ULI JON ROTH, METALIUM), can be viewed below. The CD is scheduled for release on June 17 via Massacre Records.
"Brace For Impact", which was produced by Ehré and mixed by Markus Teske (SAGA, VANDEN PLAS, SPOCK'S BEARD), features 12 "stunning melodic metal tracks in the tradition of RAINBOW, JUDAS PRIEST, DIO and BLACK SABBATH," according to a press release.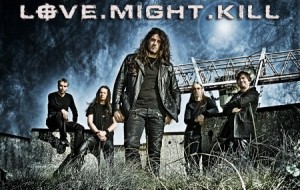 "Brace For Impact" track listing:
01. Tomorrow Never Comes
02. Calm Before The Storm
03. Pretty Little Mess
04. Caught In A Dream
05. Through The Dawn
06. Brace For Impact
07. We Are The Weak
08. Down To Nowhere
09. Pray To Your God
10. Reach Out
11. The Answer
12. Will Love Remain
After touring all around the world with several bands and writing songs for German metallers METALIUM, Japanese female metal vocalist Saeko and ex-ZED YAGO founder Jutta Weinhold, Ehré realized his vision of an own band by writing, recording and producing LOVE.MIGHT.KILL's debut CD. The effort features additional contributions from Italian singer Jan Manenti as a co-writer, longtime friends Christian Stöver and Stefan Ellerhorst (both from the German metal band CROSSROADS) on guitar and Jogi Sweers on bass.
LOVE.MIGHT.KILL is:
Jan Manenti – Vocals
Stefan Ellerhorst – Guitar
Christian Stöver – Guitar
Jogi Sweers – Bass
Michael Ehré – Drums
For more information, visit www.lovemightkill.com.
"Brace For Impact" trailer:
Via Blabbermouth
Death Scream – Heavy Metal Reviews – Heavy Metal Interviews – Heavy Metal News