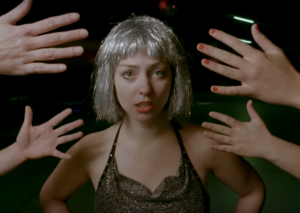 Move over Lady Gaga and Cyndi Lauper, eccentric singer Angel Olsen has another self-confessed song about pain/hope/sadness with "Shut Up Kiss Me".
If you like this song, and I don't see why you won't, as it is so quirky and so …
I digress. Angel Olsen is downright strange! And I do mean that in a good way. So, if you like "Shut Up Kiss Me"'s  girl-from-another-world strutt, then maybe you should try Ms. Olsen's new album, "My Woman" on Jagjaguwar. It dropped on September 2nd. She should be touring on the West Coast and American South.
Patti Smith meets Nirvana is another squinted-eyed revelatory comparison I will make. Whatever you call it, Angel Olsen's music is a lot of fun. She burst onto the scene in only 2010 and looks to make some serious career headway.
This Angel is rising.
– Rich Castle