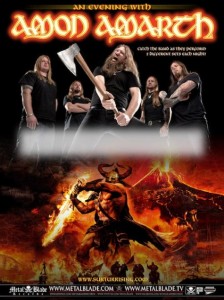 Bassy Stacy of Bay Area Rocks conducted an interview with drummer Fredrik Andersson of Swedish death metallers AMON AMARTH when the band played at the Grand Ballroom at the Regency Center in San Francisco, California on April 22, 2011. You can now watch the chat below.
AMON AMARTH will embark on six-week headlining tour of Europe in the fall. The tour kicks off October 12 in Stuttgart, Germany and ends 45 days later on November 26 in Prague, Czech Republic. Direct support on the tour will come from Metal Blade labelmates AS I LAY DYING.
"Surtur Rising", the eighth studio album from AMON AMARTH, sold around 15,000 copies in the United States in its first week of release to debut at position No. 34 on The Billboard 200 chart. The band's previous CD, "Twilight of the Thunder God", opened with more than 11,000 copies back in 2008 to land at No. 48.
Named in tribute to Surtur, leader of the fire giants of Muspelheim ("flame land") and the oldest being in the nine worlds of Norse mythology, "Surtur Rising", which came out in North America on March 29 via Metal Blade Records, features 10 tracks of sword-wielding, fist-pumping, hyper climactic battle anthems. The album was once again recorded at Fascination Street Studios in Örebro, Sweden with Jens Bogren and features strikingly brutal cover art by Tom Thiel.
Via Blabbermouth
Death Scream – Heavy Metal Reviews – Heavy Metal Interviews – Heavy Metal News