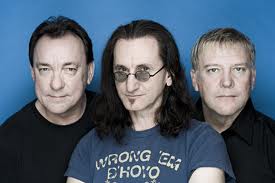 According to Musictap.net, Concord Records will release a RUSH DVD and Blu-ray titled "Time Machine" on September 27. The disc will most likely contain footage of RUSH's April 15 concert at Quicken Loans Arena in Cleveland, Ohio filmed by the award-winning documentary makers Banger Productions from Toronto in Canada, who have received international critical acclaim for their previous movies "Metal: A Headbanger's Journey", "Global Metal" and the RUSH documentary called "Rush: Beyond The Lighted Stage".
RUSH's Cleveland performance of its "Time Machine" show was filmed as a tribute to the U.S. city that first played the band's music.
Cleveland is remarkable for being one of the very first U.S. cities where RUSH performed, in addition to being the first city to provide American airplay. This also marked RUSH's first live full-length filming on U.S. soil.
The "Time Machine" tour was an evening with RUSH, where the band performed its classics, gave a taste of the future and — for the first time ever — featured the "Moving Pictures" album live in its entirety.
RUSH bassist/vocalist Geddy Lee recently spoke to The Plain Dealer about the progress of the songwriting sessions for the band's upcoming 20th studio album, "Clockwork Angels", for which a release date has not yet been set.
"We've got about seven songs written," Lee said. He added, "When you hear the first two songs ['BU2B' and 'Caravan'], which we're playing live now, they definitely have a heavier sound. It's the heavier side of RUSH in the early going. But when I think of all the songs that we've written already, there's quite a lot of diversity there. I think — I hope — RUSH fans will like it. We're certainly going to work hard to make it a great record, as we always try."
Via Blabbermouth
Death Scream – Heavy Metal Reviews – Heavy Metal Interviews – Heavy Metal News