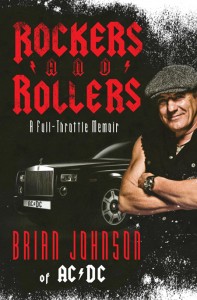 Nicki Gostin of PopEater.com recently conducted an interview with Brian Johnson about the AC/DC frontman's book, "Rockers And Rollers: A Full Throttle Memoir". A couple of excerpts from the chat follow below.
PopEater.com: It's AC/DC's 40th anniversary in two years. Do you have plans to tour or record an album?
Johnson: I'm going to see the boys and we'll probably have a little pow wow and a chat to see how we're feeling. We never ever say, "We're going in the studio January next year." If you do that, you're straight under pressure and we've never worked like that. We've always been very easy-going. We're like migrating birds, we smell the air and scratch our arses and say, "Hmm think it's time."
PopEater.com: Do you think you'll tour?
Johnson: Well, if an album comes out, although I don't think I could do two years again; that was brutal, but I'd sure hate to say that's the end of it. I think you need a full stop at the end of everything, a sentence, your life, or your car. There has to be a full stop and I don't think we've had one yet.
PopEater.com: How long do you think it took for Bon Scott fans to accept you?
Johnson: I'm sure there were a lot of people who thought it wouldn't work. The boys were fantastic. I remember that first gig in Belgium, they just said, "Brian, just go out there." They could see I was as nervous as anything. We walk out on stage and there was a sea of placards saying "Bon Scott R.I.P.," but right in the middle of it was a big sign saying, 'Good luck, Brian," and that touched me; it still does when I think about it. Basically that was it; it just took off from there. I sang the songs and slowly but surely during that first tour, "Back in Black" became more popular and the cheers became louder and louder for those songs. It's been an exciting ride ever since. I'm proud to be a part of AC/DC and they're still going and have fans all over the world.
PopEater.com: Steven Tyler helped induct you into the Rock And Roll Hall Of Fame. Did you watch him on "American Idol"?
Johnson: No, I don't watch "American Idol". I don't like watching people getting humiliated. It hurts me. Some people are more nervous than others. When I was 16 and did me first gig, I was so terrified, where other guys who maybe weren't as good as but had bags of confidence. Of course, as the years went by, I got more confident. I'm just terrified these shows might knock the stuffing out of a guy who is nervous. It's toe-curling watching those people being told they're not good enough and the tears are mawkish, but it's making somebody a bloody fortune and it's certainly not the artists.
Read the entire interview from PopEater.com.
Via Blabbermouth
Death Scream – Heavy Metal Reviews – Heavy Metal Interviews – Heavy Metal News