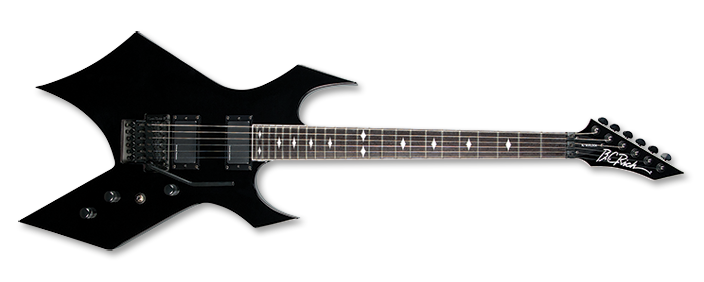 I don't know how many of you have had a musical listening journey like I have had. I've been a guitar player since I was knee-high to a grasshopper. I have tended to want to find the most progressive and/or the most heavy, most outrageous, music I could clamp my ears on. Getting the first Black Sabbath album felt as stimulating to my ears as it would the Hellhammer/Celtic Frost discs. Tony Iommi of the former, and Tom Warrior of the latter being the epitome of heaviness. Yet, I must say that every guitarist I would hear, and this is still true, would have my attention. Especially if they could play, and preferably — if they wanted my long-term attention, they had to rock so hard that it felt like METAL.
ROCK/METAL/PROG is where my heart is, although I really enjoy the guitar work of Frank Zappa and John McLaughlin & Mahavishnu Orchestra. ANGEL, E.L.P., YES, KANSAS, HAWKWIND, JETHRO TULL, RENAISSANCE and the whole Prog Rock field is musically and intellectually engaging enough for me to really dig a whole lot. Prog and Metal are both "deep" wells, characteristically, of towering vivid sound columns.
So this list is going to focus on guitarists who play, or played Heavy Metal the best. It will be, admittedly, subjective. Don't crucify me too much.
Ultimately, Heavy Metal is made as a group effort, and a guitarist that plays loud and distorted isn't necessarily playing Heavy Metal music. Though I guess the exception is the guitar solo. If one checks out my own guitar solo on the EVERY SATURDAY project, it is certainly a Heavy Metal thing; yet the band is PROG. (Click on the song which is an electric guitar solo, which is an original tune, called "You're In Trouble".
Is "Eruption" by VAN HALEN a Heavy Metal solo? You darn right it is! It is the first song on the first VAN HALEN album and that whole album is Heavy Metal. It is so heavy that when VAN HALEN was the opening act for BLACK SABBATH on their "Never Say Die" tour of '78, they stole the show by playing all the songs (except one) from their first album. David Lee Roth came out in high-jumping Bruce Dickinson mode and energy seethed from the stage from all band members. A tired OZZY OSBOURNE was busy with his own bar on stage, and the final words to "Never Say Die" were not to be heard as the song by the Doom behemoths came to a close. Soon afterwards, Ozzy would have to leave the band due to drug and alcohol problems. Tony Iommi did hold a clinic though, and as usual, was in his own dark danger zone, which the Brummie Iron Man perpetually inhabits. His riffs were scything and cutting with laser beam precision in a dazzling display of 6-string mastery and complete control over the instrument.
For all you guitar players out there: ROCK 'em dead and try to play every day, even when you are working your butt off doing other things. If you can, crank it up! And if you can, crank it up loud! There is a whole different dynamic when the guitar maestro plays loud and distorted. The amplifier and the guitar become one; take a look at Hendrix at Woodstock. He worked as a conduit for the keening signal that was in his soul. He then, as purely as he could, earnestly radiated his muse back outward to the receptive crowd.
Then there are guys like Alex Lifeson. He is my overall fave along with Tony Iommi. "2112" and all of the "Archives" triple album composed of RUSH's first three albums are all very 'Metal. Alex "Lerxst" Lifeson, though, is a consummate musician who knows that he needs the best and most varied pedalboard he can stomp on. He knows that variety is the spice of life. Thus, there are many other styles in the music of the Progressive Heavy Rock band RUSH. And the same can be said for the music of LED ZEPPELIN with Jimmy Page, the master, on guitar. Just check out "The Song Remains The Same". It was a feature-length film and it played in theaters. It presaged the career of RUSH.
And, no, I haven't forgotten Steve Howe of YES. Howe is a creative and constructive guitarist playing niftily with much beauty twixt the notes and licks that weave a tapestry. The art of making a clear, pleasant and constructive soundscape can be witnessed on the "Drama" album by YES.
Elsewhere in the Heavy Metal sub-genre spectrum, bands like IMMORTAL, UNLEASHED and ENTOMBED place the guitar in the music so it can be heard clearly to the point where the chords and notes are not obscured or blurred by reverb or faulty production. This point can't be made any clearer. There are bands like BLASPHEMY or BATHORY's "The Return" where the all the hoopla don't mean a hill of beans because it is vastly unlistenable. Music, and especially Heavy Metal, needs to have special care taken so that for guitarists, there is no "white noise", line noise, or overpowering effects in the mix, to ruin a recording or live performance that is meant to be devastating in power and scope. Even guitarists that are supreme have fallen prey to faulty technical delivery.
There is certainly a lot of cross-pollination going on in the land of great guitarists who are musicians of a high caliber. Of course, there are plenty of undoubtedly pure Heavy Metal bands and 6 and 12 string electric axe men. The rise of Extreme Metal — case in point MERCYFUL FATE brought this to bear. Tom Warrior came out of the early 1980s decade with the rise of Power Metal, Thrash Metal, Black Metal, Death Metal, etc. The musicians in these bands took the adage of Heavy Metal and made it a cause celebre. The drive to play faster and harder and louder, and dress and act outrageously, still defines the modus operandi a Heavy Metal guitarist might adopt; though this is a trend that petered out by 1995-1997. The fact that art and music moves in cycles accounts for why this is still true, today to some extent.
Heavy Metal is enjoying a resurgence that started about 11 years ago as the world's mainframe collapsed and shifted with the war in Iraq, and the terrorism of 9/11 in 2001 coupled with the fears of Y2K sobering up the industry. The internet is still in flux as to what to do in the coming years, as many a musician is keenly aware that they have to give away something to get something back. A Heavy Metal guitarist still wants to play and record and perform "live". Yet I must stress that all musicians and certainly bands need to have their own website on their own plat- form. Thus, they will be impervious to the whims and slips and falls that relying on platforms create. The perils of the brave new world (as IRON MAIDEN put it) become all-engrossing and the music takes a backseat to wasting precious time on social media rather than just getting to the musical fracas at hand. As a prime example of Internet fragility, some may remember the now-defunct website Imeem, an internet platform, as a current enough example, that fell flat on it's face not too far back in time on the worldwide web. Guitarists need to carve out their own niche, keeping one eye on the crowd and one eye on the money. Not the honey.
Without further adieu let's look through the glitter and sheen of Heavy Metal to find the 10 Best Heavy Metal Guitarists Of All Time.
– Rich Castle