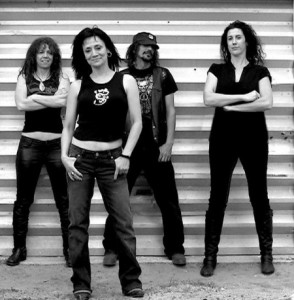 THE SLEDGE/LEATHER PROJECT, the new band featuring featuring former CHASTAIN singer Leather Leone, performed at the Keep It True XIV festival, which was held April 29-30, 2011 at Tauberfrankenhalle in Lauda-Königshofen, Germany. Leather was joined in the new band joined by MALIBU BARBI drummer Sandy Sledge, bassist Betze Stephens and guitarist Brent Baugh on guitar. The setlist contained a lot of CHASTAIN classics, songs from Leather's solo album and brand new songs.
Fan-filmed video footage of the concert can be viewed below.
In a recent interview with Maximum Metal, Leone stated about THE SLEDGE/LEATHER PROJECT, "I never lost touch with [Sandy] Sledge and I'm sure Delphine, if she was still alive, would be calling me. Sledge and I decided that we still had something to say. We wanted to finish what we started so we formed THE SLEDGE/LEATHER PROJECT. After doing a demo tribute recording of DIO's song 'Egypt', we were immediately booked to play the Keep It True festival in Germany. We'll be releasing the ['comeback'] show on DVD."
When asked if the THE SLEDGE/LEATHER PROJECT album was completed and what fans can expect to hear from it style-wise, Leone said, "We're writing it and it will probably be released in November. We're really excited about the opportunities that we're being given. It's great for me to finally have a huge say in what's written and how it's written. With Sledge, I feel like it's writing with a soulmate — same beliefs, same ideas — because we are writing what comes to us naturally and what comes to us naturally is HEAVY music. This is metal. It's just 'metal.' Heavy, metal."
Leather Leone recently recorded a cover version of the DIO classic "Egypt (The Chains Are On)" as a tribute to Ronnie James Dio in October 2010 at the Freedom Studio in Los Angeles, California.
Leone joined reactivated '80s Sacramento, California thrashers SENTINEL BEAST on stage on January 29, 2011 at the Cheyenne Saloon in Las Vegas, Nevada to perform a cover version of the IRON MAIDEN classic "Phantom Of The Opera".
Via Blabbermouth
Death Scream – Heavy Metal Reviews – Heavy Metal Interviews – Heavy Metal News