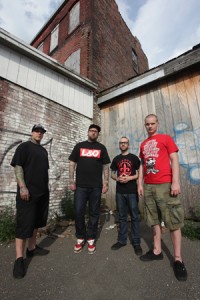 Natalie of Onslaught Radio conducted an interview with Massachusetts metallers THE ACACIA STRAIN on April 12, 2011 at 02 Academy Islington in London, England. You can now watch the chat below.
THE ACACIA STRAIN will take part in this summer's Vans Warped Tour, which kicks off in Dallas, Texas on June 24 and ends in Hillsboro, Oregon on August 14. The band will play songs from its entire catalog, including its latest album, "Wormwood", which came out in July 2010.
"Wormwood" sold around 6,300 copies in the United States in its first week of release to debut at position No. 67 on The Billboard 200 chart.
THE ACACIA STRAIN's previous CD, "Continent", opened with 5,600 units to land at No. 107.
"Wormwood" was recorded at Planet Z Studios in Hadley, Massachusetts with Chris "Zeuss" Harris (HATEBREED, CHIMAIRA, SHADOWS FALL) handling producing, mixing and mastering. The CD features three guest vocalists — HATEBREED's Jamey Jasta, 100 DEMONS' Bruce LePage and Kyle Chard of BORN LOW.
Via Blabbermouth
Death Scream – Heavy Metal Reviews – Heavy Metal Interviews – Heavy Metal News