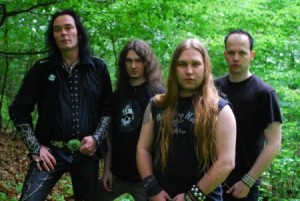 German "true" metallers STORMWARRIOR will release their fourth album, "Heathen Warrior", on May 27 via Massacre Records. The effort, which was mixed by Tommy Hansen (PRETTY MAIDS, HELLOWEEN, HATESPHERE) at Jailhouse Studio in Denmark, will also be available as a limited digipak as well as on limited vinyl.
"Heathen Warrior" track listing:
01. …Og Hammeren Hæves Til Slag…
02. Heathen Warrior
03. The Ride Of Asgård
04. Heirs To The Fighte
05. Bloode To Bloode
06. Fyre & Ice
07. The Returne
08. Wolven Nights
09. Ravenhearte
10. The Valkyries Call
11. And Northern Steele Remaineth
The song "Ravenhearte" is available for streaming at this location.
The European digipak and the Japanese version will contain different previously unreleased bonus tracks.
The artwork was created by Uwe Karczewski and can be seen below.
According to a press release, "metalheads can expect another combination of explosive guitar works, catchy hooks but also some new toppings to the typical STORMWARRIOR sound!"
A release party for "Heathen Warrior" will be held on June 4 at the Ballroom in Osnabrück, Germany.
Locomotive Records released the third studio album from STORMWARRIOR, entitled "Heading Northe", in North America in April 2009. The CD, which was released in Europe in February 2009 via Dockyard 1, was recorded at the group's own Thunderhall Studios and was mixed with Piet Sielck (SAVAGE CIRCUS, IRON SAVIOR) before it was mastered at Tommy Hansen's Jailhouse Studios.
STORMWARRIOR is known for its unique combination of "true metal" anthems with lyrics that are rooted in Nordic mythology.
After the release of its "Northern Rage" CD, STORMWARRIOR was invited to play all the biggest festivals like Wacken Open Air, Bloodstock, MANOWAR's Magic Circle and Earthshaker. The band also collaborated with Kai Hansen by performing HELLOWEEN classics during select live appearances.
Via Blabbermouth
Death Scream – Heavy Metal Reviews – Heavy Metal Interviews – Heavy Metal News