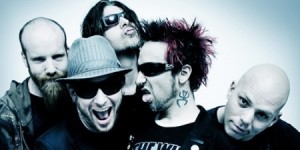 Video footage of STONE SOUR frontman Corey Taylor performing the song "Bother" on April 12, 2011 at Reliant Arena in Houston, Texas during the band's "Avalanche Tour" with SKILLET, THEORY OF A DEADMAN, HALESTORM and ART OF DYING can be viewed below.
STONE SOUR's third album, "Audio Secrecy", has sold 163,000 copies in the United States since its September 2010 release, according to Nielsen SoundScan.
The band's latest video, "Hesitate", was filmed on September 20, 2010 in Los Angeles with director Paul Brown (JACK WHITE/ALICIA KEYS, AVENGED SEVENFOLD, JOHN MAYER) and directing collective Beta Movement/Skulley FX.
Taylor said that "Hesitate" is one of the standout tracks on the latest STONE SOUR album for him. "It's a bittersweet song, " he said. "It's about letting go of something that you want with all your heart that you know is just gonna do nothing but damage to you. And it takes a special kind of heart and a special kind of courage to do that. And not a lot of people have that kind of courage.
"They would rather sit in a relationship for years and wallow in it because they're afraid of being alone. And this is about having the courage to say, 'You know what, I'm getting away. I'm gonna be on my own, and I'm gonna be OK.' And those first few steps are the worst, but once you get each foot in front of the other, it's a lot easier."
Via Blabbermouth
Death Scream – Heavy Metal Reviews – Heavy Metal Interviews – Heavy Metal News