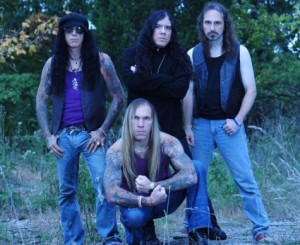 "Fields Of Fire", the new video from SEVEN WITCHES, can be viewed below. The track comes off the band's new album, "Call Upon The Wicked", which is scheduled for release on June 3 via Massacre Records.
Many years have passed since the last SEVEN WITCHES album saw the light of day and guitarist/mainman Jack Frost decided it was time to give the fans what they wanted… and brought back James Rivera (HELSTAR) to front the group once again.
With the monstrous bass and songwriting of Mike LePond (SYMPHONY X) and drums from Taz Marazz, Jack Frost and the guys recently completed work on a new album with Joey Vera (ARMORED SAINT, FATES WARNING) handling the mixing. Entitled "Call Upon The Wicked", the CD features material that ranges in sound from classic JUDAS PRIEST to a touch of RAINBOW. There's even an epic song featuring female vocals, a new step in the band's chapter. The record is a bit of a concept, talking about how women have been the decline of men since the beginning of time.
"Call Upon The Wicked" track listing:
01. Fields Of Fire (4:09)
02. Lilith (5:11)
03. Call Upon The Wicked (3:43)
04. Ragnarock (3:46)
05. End Of Days (9:01)
06. Mind Games (3:26)
07. Harlot Of Troy (4:30)
08. Eyes Of Fame (4:24)
09. White Room (5:34)
10. Metal Tyrant (bonus track) (5:01)
11. Metal Asylum (bonus track) (3:45)
12. Jacob (bonus track) 8:42)
Rivera sang on SEVEN WITCHES' "Passage To The Other Side" (2003) and "Year Of The Witch" (2004) albums.
SEVEN WITCHES' last CD, "Deadly Sins", came out in November 2007 via Screaming Ferret Wreckords. In addition to guitarist Jack Frost's impressive six-string skills, the album featured two other metal giants in their respective fields — ex-HADES/WATCHTOWER vocalist Alan Tecchio (who also appeared on SEVEN WITCHES' "Amped" release) and ARMORED SAINT/FATES WARNING/ANTHRAX bassist Joey Vera.
The current lineup for SEVEN WITCHES is:
James Rivera (HELSTAR) – Vocals
Mike LePond (SYMPHONY X) – Bass
Jack Frost – Guitar
Taz Marazz – Drums
Via Blabbermouth
Death Scream – Heavy Metal Reviews – Heavy Metal Interviews – Heavy Metal News