Septic Flesh – 'The Great Mass', Season Of Mist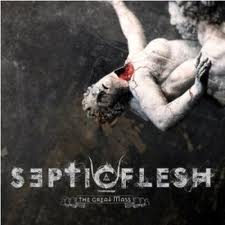 Released on April 18th, the biblical hah-bloobbah that grip's Grecian Gothic meanderers like Septic Flesh continues has it has unabated since the last decade of the last century.
Bands from Greece like Septic Flesh don't so much as give the horned one worship as much as they weird out the Holy Bible's saga of Jesus and mankind, to generalize.
What I am trying to describe is how far out there in carajo land the Greeksters can get.
The U.K. with Jack The Ripper and all sorts of other sordid events in history lead the world in overall strangeness with only Greece coming close to it's wall of sleep-like impurities.
The darkness they feel is something inherent in these Greek acts also:
Ravencult, Thou Art Lord, Necromantia, Rotting Christ, Varathron, Nergal & Naer Mataron.
Greek Gothic/Blacksters have a knack for combining Black Metal and Death Metal in equal measure and bring it often to a distant deserted island's shoreline to permeate the soil and affect the vegetation in ways that only the amphibious blowfish truly understand.
Like a bat with it's victim 'neath it's pointed black wings, Septic Flesh have made it a prize of their own possession.
The Greek style of Black Metal always seems to be a sublime treat.
It is also wonderful to have the kinds of albums that Septic Flesh produce that just get better with each repeated listen.
Gothic Blackened Doomy Death Metal act Septic Flesh are one of my favorites of the Black/Gothic/Doom scene of Greece.
I really dig most of the bands that I listed above and I will reiterate what I was saying earlier in esoteric terms, that these acts are engrossing and spectacular and as a region Greece is a very praiseworthy place for the musically darkest and heaviest bands around on the planet.
At times I long for the simpler days of Septic Flesh when the Greek Black Metal underground was in it's infancy back at the beginning of the 1990s.
The debut Lp 'Mystic Places Of Dawn' and the third studio LP, 'The Ophidian Wheel' from 1997 endeared Septic Flesh into my soul at a time in my life when I felt alienated from society by personal fears that prevented me from living my life to the fullest.
Septic Flesh made a beautiful imaginary landscape in which I would instantly, upon listening to the music on their albums, gain back my sense of wonder.
I really thought Septic Flesh's one song single from the year 2000, 'The Vampire Of Nazareth' which appears on the 'The Great Mass' as the lead-off track, to be blessed with one of the most obtruse and quizzical titles I have ever had to bear witness to in my whole life.
Septic Flesh are a very special and gifted band.
Sometimes when there is a new Septic Flesh album out I think back on the time when they weren't having to create the sonic Extreme Metal soundscapes that they do today.
Satyricon, Dimmu Borgir and Behemoth are the best examples of where the collective dark heart of Septic Flesh lies beating.
The U.K. acts Paradise Lost and My Dying Bride and the Swedes Therion and Tiamat are all good markers to take in to account for Septic Flesh's inspirational counterparts 'round the globe.
The studios of Greece, however, play a large part in determining the sound quality, mix and production cues. I honestly don't think they are up to par with the studio facilities available in Sweden, the U.S. and Germany.
Septic Flesh also languish on certain song parts to the breaking point where things can get a teeny bit tiresome and, dare I say, boring.
Watch out because on a day when your mood is depressed, filled with anxiety and thoughts of gloom and doom fill your troubled cranium, Septic Flesh will knock you on your butt.
Septic Flesh once roamed the fields of Extreme Gothic Metal without much competition yet we have records released by acts for example like Haeresiarchs Of Dis on Moribund Records, who though not Emperor sure do sound a bit like them.
So the world has become a much more crowded place.
Majestic, symphonic, melodic, atmospheric, Gothic Blackened Death Metal: Why is it that bands the world over, to varying degrees of success, like Septic Flesh who are winners at combining different stripes and flavors, want to combine all sorts of moods and musical modalities into one mere songframe?
I can only liken it to being akin to not being content on crossing the street unless there are fifty cars of all makes and models to dodge; barely making it across to the other side without gargantuan though graceful intricate striding movements that prevent one from being killed.
The macabre is Septic Flesh's playground and I would like to point out that the cross is right side up on the fourth letter of the first word of their band's name which is a 'T' yet the third letter 'E' appears backwards.
Go figure, right?
'The Vampire Of Nazarene' which I alluded to earlier is so darn good that I will talk about it again.
There are shades of Gori Lori Bravo of the now defunct twisted shatter-beat Grindgore act Nuclear Death casting her unforseen shadow on my mind as I consider again this great work of Septic Flesh as it is my favorite track in a long time by The Septic ones.
'Therianthropy' is a close second best and happens to be the closer of this album thus locking in the whole batch of songs into a strange oblong yet circular box, as my mind perceives it anyway!
'Pyramid God' is a tour-de-force of exacting magickal mystical proportions with 'Oceans Of Grey' coming in as my fourth in line on 'The Great Mass' as far as favorites go.
A mesmerizing experience is 'The Great Mass' that only Tom Gabriel Fisher/Warrior of Celtic Frost fame could've prepared me for by going so deep into the pandemonium.
– Rich Castle
Death Scream – Heavy Metal Reviews – Heavy Metal Interviews – Heavy Metal News