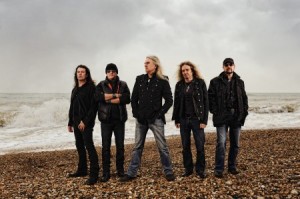 An EPK (Electronic Press Kit) for "Call To Arms", the 19th studio album from British heavy metal legends SAXON, can be seen below. The 13-minute clip features singer Biff Byford taking the viewer through the CD song by song.
A lot of fans have already heard some, or all, of the music and now you can hear from Biff personally what inspired the band to write and produce the new album and why Lord Kitchener is on the front cover.
Packing an armory of steel-coated riffs and songwriting swagger, SAXON has just released "Call To Arms" in Europe via Militia Guard Music, UDR and EMI.
Recorded at Chapel Studios in Lincolnshire, U.K. and Brighton Electric Studios in Brighton, U.K., the 11-track album was co-produced by singer/songwriter Biff Byford and Toby Jepson (LITTLE ANGELS). Featuring Byford on lead vocals, Paul Quinn and Doug Scarratt on guitars, Nibs Carter on bass and Nigel Glockler on drums, "Call To Arms" is bang on-the-money brilliant SAXON music, a confident embrace of the aura and writing values from their early years married perfectly to a modern SAXON crunch.
"This is probably the best album we've written and recorded in the last 20 years," states Biff Byford unapologetically. "I know a lot of bands say that, but 'Call To Arms' really does feel like that to me. It's the perfect embrace of our past with a great modern edge."
Between the furious riffage of "Hammer Of The Gods" all the way through to "Ballad Of The Working Man", SAXON also found time to invite fans to sing on the nostalgic stomp of "Back In '79" thanks to a Byford brainwave the night before recording.
"We put something up on our website 24 hours before recording the track in Brighton, and funnily enough we had exactly 79 people show up on time to sing on the song. It was a fantastic result which is a direct tribute to 'Denim & Leather' where we did the same exact thing."
There is also a guest appearance from keyboard legend Don Airey (RAINBOW, ELO, OZZY OSBOURNE, DEEP PURPLE) on "When Doomsday Comes".
"We were at the American embassy in different lines queuing for our visas and by the time we'd got them, Don had agreed to come and play on the song," chuckles Byford.
It also features alongside the track "No Rest For The Wicked" in the forthcoming movie "Hybrid Theory", a sci-fi thriller which follows a group of British soldiers who find themselves in a life or death battle with an enemy far beyond their wildest nightmares. The film is directed by James Erskin, who made "One Night In Turin" about England at the World Cup in 1990.
"We've done our darker albums, our full-on metal albums, we've been to those spaces and experimented with them and people came on the journey with us," says Byford, "and with 'Call To Arms' you have the culmination of those 10 years and the 20 years before it. I love this album. I love the songs. I love the sounds. It's right on the money."
"Call To Arms" track listing:
01. Hammer Of The Gods
02. Back In '79
03. Surviving Against The Odds
04. Mists Of Avalon
05. Call To Arms
06. Chasing The Bullet
07. Afterburner
08. When Doomsday Comes (Hybrid Theory)
09. No Rest For The Wicked
10. Ballad Of The Working Man
11. Call To Arms (orchestral version)
Via Blabbermouth
Death Scream – Heavy Metal Reviews – Heavy Metal Interviews – Heavy Metal News