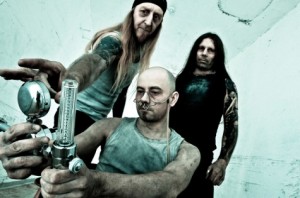 DOMINANZ, the atmospheric metal band from Norway, will release its new album, "As I Shine", in Europe on August 19 via Industrial Silence Production and Rock N Growl Distro/Cargo Records. The CD was recorded and mixed at Conclave Studio by Bjørnar E. Nilsen and Roy N. Mathisen and mastered at Earshot Studio by Herbrand Larsen.
"As I Shine" track listing:
01. Infinity
02. Agony and Domination
03. As I Shine
04. Eternal Sin
05. Abusos
06. The Philanthropic
07. Last Day of Your Life
08. Man on Top
09. From Skin to Heart
10. The End of All There Is
A video for the song "The End of All There Is" can be seen below.
DOMINANZ is:
* Roy (ex-TAAKE, OFRYSKJE) – Vocals, Bass, Guitar, Synth
* Jørn (HADES ALMIGHTY, ex-IMMORTAL, ex-OLD FUNERAL) – Guitar
* Frode (ex-THY GRIEF) – Drums
According to a press release, "As I Shine" is "the perfect blend of atmospheric black metal and engaging industrialized beats. There is also a dose of gothic, but the listeners will probably notice that DOMINANZ got their roots from the old Norwegian black metal scene. The lyric deals with everything from depictions of erotic oppression, slavery and ways to dominate fellow man. The main theme is on the bleak and destructive and living on the edge between life and death."
Via Blabbermouth
Death Scream – Heavy Metal Reviews – Heavy Metal Interviews – Heavy Metal News